Bournemouth Potterheads met up for a little witchcraft and wizardry at Harry Potter Book Night, where they cast spells and created their own potions.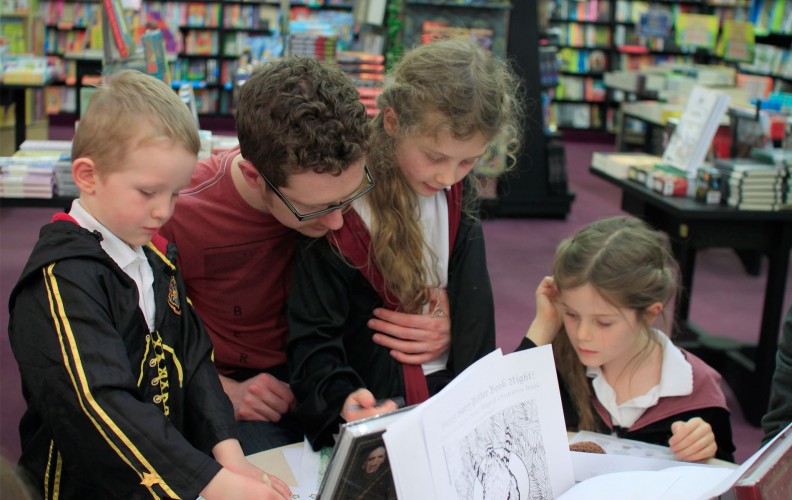 Children wore Hogwarts school robes to bookshops across Bournemouth to join wizard-themed paper crafts, puzzles and DIY activities.
Andy Barnes, manager of Waterstones store at Castlepoint Shopping Center, said the book night was for all Harry Potter fans no matter how old they are.
"Harry Potter, obviously, is in the culture, so a lot of kids were too young for this. But either they've seen the film or they've just been aware of, it's something young children can definitely enjoy doing."
Jayne Aldridge said her grandsons are big Potter fans and could not wait for the activities.
"Will and Ben love both the books and the films. They enjoyed completing the quiz whilst in the store and took the Word Search home with them to finish off later, as there were so many words to find."
"We all thought the book night was good fun and well organised, especially when they received a prize for their quiz answers."
Tom Barber, father of three, had hoped there would be more games in addition to quizzes and crafts.
"The kids really enjoyed the Harry Potter book night. Their favourite activities were the word searches. They would have liked it if there were some Harry Potter themed games as well. I think some other places did these."
The adventure goes on for Potter fans this year. The first movie of the new trilogy based on companion books "Fantastic Beasts And Where To Find Them" is coming to cinemas in November.