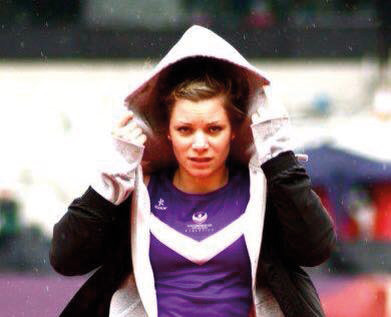 Emma Kiviniemi Andersson, 24, is an aspiring Swedish pole vaulter juggling her Olympic dream with her accounting & finance career. The promising athlete has just relocated to London to further her sporting career and is keeping one eager eye on the 2016 Rio Olympics.
---
Gareth Bailey: I understand you have a new coach, how are things progressing?
Emma Kiviniemi Andersson: The move to a new coach here in England is going well. I'm currently adapting to a new training programme which has taken some getting used to. This is also the fun part; the opportunity to learn new exercises and push your body to limits you didn't know you could. Additionally, communication between me and my coach is key and with a new coach this is also something you have to develop. It's important to have an understanding so I can get the most useful information from her coaching points. This is something that will improve with time and will eventually mean that one word or action is enough for me to understand what she wants me to focus on or change. We are not there quite yet as there are still times where I am unsure of what her coaching points are, but it is improving all the time.
---
GB: What was the biggest reason for your move from Sweden to London?
EKA: My biggest reason for moving to London is to establish a happy lifestyle. I moved to Sweden for the purpose of my pole vault. Unfortunately, I soon came to realise that this made me unhappy and as a result affected my training and progress too. I learnt that it is extremely important to find a place that makes you happy. Surrounding myself with friends and living with my boyfriend has helped me achieve this. This was also possible as I managed to find a brilliant coach and pole vault academy nearby that I could join.
---
GB: I understand you've competed to a high level in cheerleading and trampolining too, why did you choose pole vault over these, and how have they helped your development?
EKA: When I was 17, I competed in both trampolining and cheerleading whilst completing my A-Levels. I then realised my love for athletics after a few people in my family had recommended I try out pole vault. I couldn't possibly train and compete in three different sports whilst studying. Since competing at Nationals, Europeans and World championships in cheerleading, I felt that I had accomplished most things in that sport. Therefore, I chose to carry on with my trampolining and take up pole vaulting. Starting at Loughborough University I soon realised my love for pole vaulting and the hours and dedication required meant that I chose this sport. I also feel that my attributes are more suited for athletics.
During the run-up phase (Credit Grace Tedstone)
---
GB: What your current goals?
EKA: My current goal is to finish top five this indoor season at Swedish nationals and to jump four metres. Then for this Summer I am aiming to finish in the top three and increase my PB to 4.20m, which will give me the opportunity to represent Sweden for the first time at a smaller international competition. In the future I hope to be able to represent my country at one of the bigger international competitions. The Olympics is my biggest dream and a huge motivator during the tough hours of training.
---
GB: What has been the hardest thing to sacrifice to achieve your goals?
EKA: The hardest thing I have had to sacrifice is my work. After graduating from university with a degree in Accounting and Financial Management I have not been able to take on a full time graduate role and progress in my chosen field. In addition, there are smaller things as well, like missing holidays with friends and family, celebrations and general social events. But I have learnt that there are ways that you can balance your life to still have these things. I am now working part-time as an accounts assistant in a firm, which will still enable me to progress in my working career. I have found ways to socialise with family and friends but it can mean I go home a little earlier. To be able to do this and have the opportunity train for pole vault which I love, makes me feel very lucky.
---
GB: How do you rate the coverage of women's athletics? Do you think the coverage is more equal between men and women than in other sports?
EKA: I do think that the coverage for men and women in athletics is more or less equal in athletics. For example, Jessica Ennis will receive as much recognition as Mo Farah, which is brilliant. However, I do believe that this is certainly something that needs to be improved in other sports like football, golf and rugby.
---
GB: Have you got some advice for people looking to get involved in the sport?
EKA: Try it and you will love it. The feeling you get when you complete the perfect vault is such an incredible feeling, and it is not just the vaulting itself. The training we do is broad: we do vaulting, weights, running, jumping and gymnastics. This means that no week is the same and it is also a way of socialising with people as well. We train as a group together, motivating and pushing each other to reach our goals.