A Dorset parents campaign group for children with special educational needs (SEN) believes that there needs to be more funding and support in education.
An online petition has been started for schools to make curriculum and exam changes.
They believe that cuts in school funding has meant that their children are not receiving the appropriate care.
So far the petition has recieved over 100 signatures.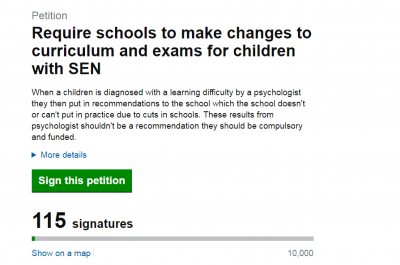 In 2018, the government allocated extra money to those with complex needs, in order to provide specialist support and tailored facilities.
However, Siobhan Lennon-Patience, member of the campaign group for SEN children, believes that this was not enough.
"The government offer 250 million pounds to all local authorities over the next two years to spend on special educational needs, but really this is an absolute drop in ocean" she states.
"There aren't enough places in specialist provisions and there is not enough support for children in mainstream settings to keep them there…there are a lot of children being excluded from schools, and others being home-schooled."
There are concerns over the impact this will have on the wellbeing of young people.
"We're embedding real social and emotional problems that will manifest later in life, so it's better to get it right now while children are at school", Siobhan continues.
"If we support children with SEN needs better in school then all children will have a better time, because the children there that don't have SEN get time taken away from them…it will benefit everybody."
The group also hopes to tackle the negative stigma surrounding SEN children, as well as those who look after them.
"One of the things we've found as a campaign group is that we get a backlash from the public", she says: "you can see there's a clear lack of understanding about what we're having to confront as parents and carers."