The concert was held on Saturday at St. Michael's Church in Hamworthy.
The money raised will be used to support the Poole Africa Link, a local charity that provides training and equipment to a teaching hospital in the Sudanese city of Wau.
Hilary Fenton Harris is the co-ordinator of the charity. She said the event was a success on all counts: "The choir had a good time, the audience had a good time, and we were able to spread a lot of awareness.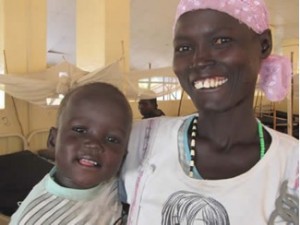 I don't think you can just expect people to put their hands in their pockets for nothing all the time. So events like this one, which people really enjoy, mean they're more likely to come along."
Malcolm Acreman is the Vice Chairman of the Dorset Male Police Voice Choir. He said that doing charity evenings like this one is a big part of their remit.
"We're going out in the community roughly about once a month. The Choir is both about having fun and raising money for good causes."
Obviously it also helps with community relations too – people don't always think that the Police get up to this kind of thing!"
Also singing on the evening was a local women's group, the Cantelina choir.
Related Links
Dorset Male Police Voice Choir Website