A pay hike for Dorset's new Police Chief Constable has been described as embarrassing by a member of Bournemouth Borough Council.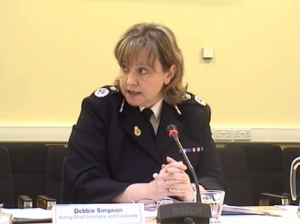 The decision was discussed last week at the first Police and Crime Panel meeting, in which Debbie Simpson was confirmed as the new Chief Constable, putting her on £146,000 per year, a £10,000 rise. An increase in the council tax policing precept was also voted for.
The panel was set up following the creation of a Police and Crime Commissioner in Dorset, and answers to the public on the delivery and performance of the police service.
Councillor David Smith, of Bournemouth Borough Council, said the pay rise was "an embarrassment" considering recent cuts to the annual salary of new police recruits and the freezing of public sector pay.
But Dorset Police and Crime Commissioner Martyn Underhill defended the increase as a "one-off" to attract the best candidates for the position.
He said: "If we don't have a chief constable that shares my vision, and the vision of Dorset, then the policing plan isn't delivered, and I don't think the people of Dorset get the policing service they deserve."
"Of all the decisions I've made so far…this is the most important decision, and I sit here quite happily and comfortably today, justifying that increase", he added.
Overall only four people applied for the Dorset Police Chief Constable vacancy, but Mr Underhill said he was happy with the quality of the candidates.
An increase of 1.95% to the council tax policing precept, the part of council tax directly funding the police, was later agreed after a majority vote. This equals £183.51 for a Band D property, a rise of £3.51 this year.
Mr. Underhill's Police and Crime Plan states the hike equates to "a penny a day", but the increase has disappointed some councillors, such as representative for Winton East Theo Stratton, who voted for a freeze.
Sadly the Dorset Police and Crime Panel voted for a rise in Council Tax 2013/14. Cross party Bournemouth Cllrs voted for a freeze instead.

— Theo Stratton (@TheoStratton) February 7, 2013
Mr Underhill also outlined his five year policing plan to the panel which include reducing the number of victims of crime and anti-social behaviour, reducing re-offending, and increasing people's satisfaction with policing.
The commissioner also plans to introduce Clare's Law to reduce victims of domestic abuse, and recruit special constables and volunteers to increase police presence.
Main image by Wurz.