Tweeting police have the same right to free speech as anyone but have to be careful, says the Dorset Police Federation.
Dorset PC Nick Manning who may be facing charges of misconduct relating to his Twitter use only engaged in a "minor" breach, said chairman Clive Chamberlain.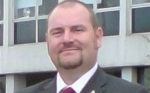 The offending tweet was not about police staffing or cuts, as had been widely reported, he said.
"Nick Manning is facing disciplinary action for a tweet that has now been deleted.
"The issue is not serious. It is a minor, internal discipline matter that the press has unfortunately picked up on," said Mr Chamberlain.
As the matter is now under investigation, the federation was unable to go into specific details.
"It is normal for police officers to engage with social media. As an individual he has a right to free speech.
"It is important not to confuse professional life with private life. As members of the police department, we have to be careful about what we say and how we say it," added Mr Chamberlain.
PC Manning was issued with a 'regulation 14' notice by legal authorities which means he is under investigation for possible misconduct.
Related articles
UK | Dorset Police could cut a further 300 jobs – BBC News (skillsinfo.wordpress.com)