A Poole primary teacher hopes a fundraising campaign for new defibrillators will unite her local community.
Emma Hicks, 47, has a target of £4,000 to purchase and install two publicly accessible defibrillators (PADs) in Oakdale.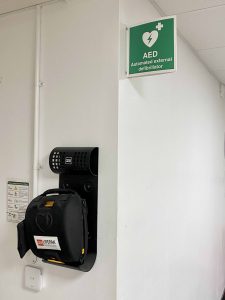 Mrs Hicks stated that: "I want the Heart Start project to unite and bring people together for a common cause, to engage and talk to each other, as we are a community and that's why we need to remember to look out for each other".
The campaign originated after Mrs Hicks spoke to neighbours and other residents about Bournemouth, Christchurch and Poole Council's plans to create low traffic neighbourhoods, a divisive issue throughout Oakdale. Some people are concerned that road closures will lead to significant delays in ambulance response times, and Mrs Hicks said that "the more defibs we can fund and put through our community the safer we can be."
AED Donate, a national charity which works with local areas across the country to prepare them for the event of a heart emergency, will install and maintain the defibrillators once they're in place.
Whilst there are some currently within private buildings and workplaces, the new defibs will be available in a public space – such as a local phone box – and not locked away after opening hours when they could be needed.
Mrs Hicks says: "Anyone can have a sudden cardiac arrest at any time." She knows how a quick response can make a vital difference; a friend of hers suffered a heart attack three years ago on Boxing Day but luckily survived because an ambulance was coincidentally taking a break down the road.
Dr Felicity Rice, Councillor for Oakdale ward, says that: "This is a great initiative to help support residents in Oakdale. Increased access to defibrillators can be so helpful for a community. I have a friend whose life was saved by the use of a defibrillator when he was at a gym 10 years ago so I personally really value this campaign."
According to the British Heart Foundation, more than 300,000 out of hospital cardiac arrests take place every year in the UK, with fewer than one in ten people surviving. Every minute a victim is waiting for help without CPR or a defibrillator shock, their chances of survival can drop by up to ten per cent.
£1 000, a quarter of the fundraising total, has already been raised since the beginning of November.
What are defibrillators?
A defibrillator or "defib", sometimes called AED, is a medical device that delivers an electric shock to the heart, and can save the life of someone suffering a cardiac arrest.
Who can use defibrillators?
Any member of the public can use a defibrillator without training if someone's life is in danger, and often 999 operators will alert callers to one nearby and instruct them to use it in conjunction with CPR until an ambulance arrives.
Where can I find one?
PADs – public access defibrillators – are found in indoor public spaces like train stations and community halls, or outside attached to walls or remodeled phone boxes.