Teachers in Purbeck will find out in December if they still have jobs.
The decision to close four middle schools last summer was made by Dorset County Council.  Due to the decline in the number of pupils in the area, the council decided to change the schooling system.
Currently there are 57 teaching staff at the four middle schools which are due to close in September 2013.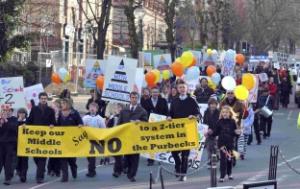 Under the restructure several jobs will go. Project manager, Rick Perry would not be drawn on how many redundancies there would be.  He said: "Some staff will take early retirement, some will be due retirement, other staff will seek alternative employment outside the area and be successful and so on."
The chairman of a parent action group, Andy Kent said "The fear is of course with school budgets tied down that staff who get through the reorganisation process are going to be younger staff who are cheaper, the more experienced staff will lose out."
The director of children's services for Dorset County Council, John Nash said the review was not cost driven. He said: "Regardless of the Purbeck review the declining pupil numbers would have required a reduction in the number of teachers.'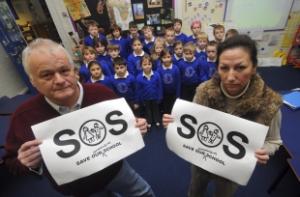 A panel of governing bodies from the Purbeck region will be meeting in the next two weeks to assess 'best fit' applications for positions in the two-tier system.
Purbeck school governor Nick Hagen said:  "It is an unfair process, however it is a good opportunity to get rid of dead wood and employ more specialist teachers"
One of the parents against the decision, Christine Evans said: "I do not think that it will improve the quality of teaching."
The middle schools in Sandford, Wareham, Bovington and Swanage will close in September 2013.
Related articles:
http://www.dorsetforyou.com/purbeckreview