Late on Friday afternoon, at Dorset Council headquarters in Dorchester, a decision was made. Following years of turmoil, tireless campaigning and hours of discussion, councillor Robin Cook finally made the long-awaited announcement.
The chairman of Strategic and Technical Planning Committee ultimately declared that the controversial plans for a waste incinerator to be built at Portland Port were to be rejected.
That day had heard several hours of debate from the council, as well as members of the public, many of whom had voiced their concerns over such a model being built so close to the Jurassic Coast, a World Heritage Site.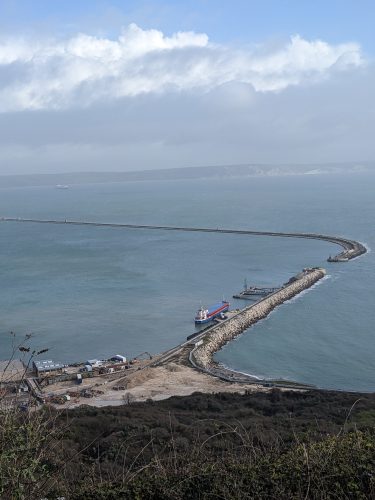 "This is unanimous," stated Cook, as he and many like-minded councillors agreed to refuse any further plans.
The meeting was also full of trembling protesters, peering down from a withered balcony as the hours went by. Many of them had been outside since 8.00am, fearful over massive amounts of carbon emissions, alongside an estimated 40 lorries blocking access to and from their homes.
For these Dorset residents, this outcome would have felt like a victory.
This account of how the waste incinerator was ultimately rejected is based largely on conversations with numerous climate activists, who were present at the council meeting and spoke to the Breaker at the morning protests, as well as over the following few days.
The incinerator had first been proposed by Powerfuel Portland in November 2019. They had put forward plans to build an £150m plant which they said would burn up to 15 MW of electricity.
But they had been met with hostility from many outsiders, no less from local activist group 'Portland 4 The Planet', who had been fighting these plans for almost three and a half years.
It took the same amount of time for councillors to start considering the proposals made by Powerfuel, objections being made by Dorset Council's landscape architect being one of many reasons the company's plans were forcefully pushed back.
Meanwhile, 'Portland 4 The Planet' had shown zero signs of slowing down during that time, organising two large demonstrations in September 2020 and October 2021, both protests having massive turn outs in support.
But on Friday the group appeared more anxious, standing upstairs in the public gallery whilst looking down at the earnest looking councillors, all of whom appearing similarly advanced in age.
The room was uncomfortably warm as the meeting was tedious, perhaps the reason why a few began to yawn only half an hour into a meeting which lasted nearly eight hours. 17 people spoke out against the incinerator in total, seven of them belonging to the campaign led by the activists, known as 'Stop Portland Waste Incinerator'. Each person was given just five minutes to speak.
These speeches were not without those who vehemently supported the plant being put in place. Laura Baldwin, 42, who led the campaign, told The Breaker that Portland Port Chief Executive Bill Reeves wanted the incinerator to help with cruise ships, whilst condemning the council during his speech.
"He accused Dorset Council of 'shopping around for a favourable outcome'," Baldwin said.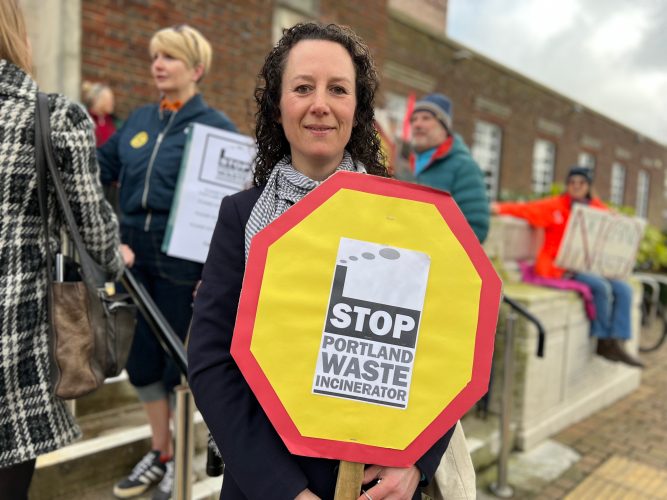 After that was when the planning design company 'Terence O'Rourke' spoke. As three speakers from the group made their voices heard, their message was clear: the model had to be constructed.
Baldwin stated that they had said they had made calculations that showed a net CO2 gain of 160,000, a claim she refutes.
Baldwin further added that the three speakers' most scathing points were directed towards the Landscape Officer and the Case Officer, the latter of whom she claimed was accused of "selective hearing."
The ongoing speeches did nothing to ease the tension. For Baldwin, her anxiety worsened when Cook asked all those who supported the Case Officer's recommendation to refuse the incinerator, to raise their hands.
Not one hand was raised.
But as the activists discovered, not raising their hands were not actually members of the Strategic Planning Committee. It was at this moment when Cook announced that the decision was "unanimous". There would be no waste incinerator built on Portland Port.
For the activists that had spent almost eight hours peering over the hard, wooden balcony, there was one common feeling. Relief.
In the eyes of Baldwin, the outcome meant that almost three and a half years spent campaigning was worth every minute.
Baldwin is also an Olympic sailor, and has shown similar levels of dedication and hard work since she founded 'Portland 4 The Planet' in March 2019. Having been the driving force behind the group's two previous huge protests, the Dorset-based campaigner further proved her resilience last week.
One could have been forgiven for preferring to stay in bed on a breezy Friday morning. However, by 8.00am the Dorset Council headquarters had been gatecrashed by several likeminded protesters, all wrapped up in thick layers but no less eager to make their voices heard.
One other person at the forefront of the demonstration was Etienne Stott, whose commanding voice made him distinct. Gleefully handing out placards, the assured Stott Coolly gave instructions to rest of the eager protesters.
This thick navy blue coat and grey hat gave the impression of a man who came prepared. Hardly a surprise, given his partner Baldwin founded the group.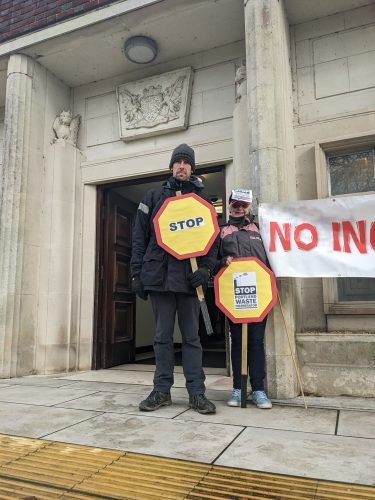 Stott, 43, also comes from an Olympian background, achieving gold medal status in the Canoe Slalom in 2012. Nowadays, he refers to himself as a "concerned Portland resident."
"It really seems like a shocking project," Stott said of the proposed incinerator. "It's certainly not in the interest of our local community. We know that incineration is very carbon intensive."
Local residents have long feared the consequences of building a waste incinerator, in terms of climate. It is thought that such a model would create large quantities of Carbon Dioxide (CO2) emissions, which would significantly harm the atmosphere.
Dorset protesters have also previously stated that the Portland plant would produce 202,000 tonnes of CO2 per year.Having more CO2 in the atmosphere would mean an even greater increase in global warming. This was a key point for Stott, who argued that people must "think more globally" when considering the lasting effects of an incinerator.
"We are in a climate and ecological emergency," Stott further added. "We need to be reducing carbon emissions."
Equally enthusiastic Caz Dennett willingly spoke to the Breaker, eager for her voice to be heard.
Dennett's carefully written placard which politely asked to 'please' vote against the incinerator perhaps reflected her attitude. Kind, polite, whilst desperately standing up for her beliefs.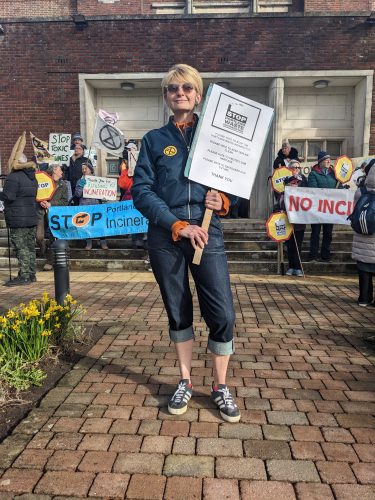 "This goes against everything that Dorset Council currently stands for," Dennett stated, which, she says, is, "tackling climate change."
"We need less waste."
Dennett has been a local campaigner with 'Extinction Rebellion' for almost four years. Almost four years ago, Dennett, alongside other protesters, stood outside South Walks House in Dorchester, and demanded that the Council declared climate and ecological issues to be an emergency.
Amazingly, they did.
What frustrated Dennett the most was that Dorset has been known for already managing their waste efficiently. A previous study found that Dorset boasted a recycle rate of 60.1%. For Dennett, building an incinerator would be a waste.
"This is the problem," Dennett added. "Will it impact that very good recycling?"
But, for now at least, those fears are gone.
The Council's decision meant that there will be no incinerator, meaning that there will be no increase of CO2 emissions in Dorset, their Jurassic Coast World Heritage Site will be protected, and the South-West county will be able to continue managing waste, on their own terms.
However, in Baldwin's eyes, the fight is far from over.
Her advice to mitigate the increase of climate change? Stop using fossil fuels.