There was a strange air of anticipation in the Roundhouse before Sixto Rodriguez's headline slot last week. It remained unclear whether the 'Sugar Man' singer would be able to transfer the legendary status he so effortlessly boasts in South Africa to rain-soaked Camden town.
But this was not in doubt for long. Arriving on-stage flanked by his daughter and grandson, the 70 year-old was greeted with rapturous cheers from the crowd that would usually be reserved for a home-coming concert rather than a visiting act from Detroit, Michigan.
Launching instantly into hits from 1970's 'Cold Fact', backed by a slightly annoying but perfectly adequate backing band, Rodriguez simplistically demonstrated his true strength; the tunes.
Like Dylan, only this guy can sing
Having often been compared to Dylan, Rodriguez's songs carry a classic time-less quality to them which makes you feel as if you've known them all your life despite his rather recent belated success.
Whilst quite a shy and timid presence on stage, Rodriguez let the songs do the talking, launching into hits 'Sugar Man', 'I Wonder' and 'Inner City Blues' inspiring mass-singalongs from the packed out Roundhouse crowd.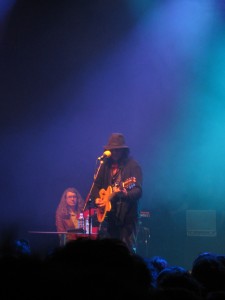 The world-weary stage presence Rodriguez boasts only helps to increase the Dylan comparisons afforded to him, only this guy can still sing.
As the short 75-minute set progressed and Rodriguez visited lesser known takes from his two classic records the previously entranced crowd's attention began waiver, but this should not diminish what was a fantastic performance.
Perhaps the cavernous Roundhouse was at fault for the lack of growing atmosphere, the over-priced drinks and disappointing sound did little to create the intimate feeling which the music demanded.
Whilst watching Sixto's impressive performance it struck this reviewer why his music and his story of belated success has resonated so much with so many people.
The enchanting story of Rodriguez's revival, told so masterfully in this year's 'Searching for Sugarman', provides the public with a truly deserved success story, breaking through the monotonous drama of annual X-factor winners.
[one_half][/one_half]
Similarly, amongst the wave of reunion and comeback tours staged by nostalgic pop groups over the years, Rodriguez stands out as a deserving and worthy performer for our attentions.
Sugarman's a class act. And that is a cold fact.
Main image: Paul Cave