Roundabout theatre, a pop up theatre in Poole park, was victim to vandals and thieves on Thursday, resulting in Saturday's performances to be cancelled by organisers.
Three new plays were planned to premiere during the four day Roundabout Festival, with children's comedy and youth performances on Saturday meant to be a highlight.
Co-organiser, Poole's Lighthouse says in a statement on Saturday: "Unfortunately today's performances at the Roundabout Festival in Poole Park have been cancelled.
"Overnight the tent was vandalised and key equipment needed to run the shows was damaged or stolen."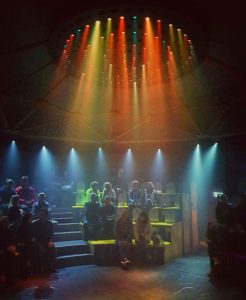 The ticket office is contacting people who have booked to watch the shows while the team is working to get everything back up and running for the following day.
By Sunday morning, the last day of the festival, the team had finished solving any problems that arose and Lighthouse released a statement saying: "Everything is back on track and all shows are running as scheduled."
This has been the second year that the Roundabout Festival was held in Poole, and will be returning in the Autumn or 2018.
After this week, the theatre will be in Stoke-on-Trent for its next stop.