Children are sitting silently in the library at St Edward's School, looking, pointing and reading in the many different books provided by the School Library Service. The Librarian Jemma Coates walks around in the library. She picks up a bunch of books and carries them in her arms. She then starts to put them in their place one after one but drops a fairy tale on the floor. She picks it up and puts it safely back in its place. But the fairy tale of The School Library Service does not have a happy ending as a declining numbers of schools using it will lead to the service's final chapter by the end of the summer term. A library service that began in 1995, that has helped schools run effective libraries and given access to books through hire and purchase for 21 years is soon to be history. St Edward's School is one of the many schools that has been using the service effectively for the past three years and still does.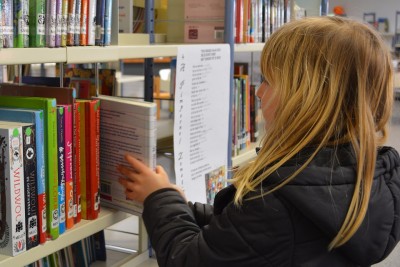 Librarian Jemma Coates of St Edward's School in Poole says,
"This is really sad. We now have to rethink how we stock the school library, which is a real shame. And it's a shame for the children, really."
"There is no other service like this in the local area, so we are probably going to buy our books now instead of using the service that allows us to change our stock frequently. This will affect library lessons and students," she says.
Mrs Coates adds, "From statistics, I can see that it's not as popular as it used to be. I rang around some local schools and they said that they bought their own anyway, so they didn't use it. I do understand why it had to be closed, it's just a real shame and if it's all about money then that's really sad, but that's just the way it is right now."
Many schools do not use the service and will therefore not be affected by the closure. Head of English Victoria Sherren at Talbot Primary School says, "Talbot Primary do not currently use the School Library Service. We have very close links with the Poole library service and their literacy officers, so we have not in recent years felt the need to use this service at Talbot Primary."
The School Library Service provides resources to support the reading and learning development of children and young people, but the council has seen a decline in schools using the service. Therefore, they sent out a consultation on March 1 to find out whether or not to close down the service.
Councillor Colin Jamieson, Cabinet member for Economy and Growth, says, "The responses to the survey have helped inform the recommendations for the Cabinet. Although some schools have indicated they would like to subscribe, the number of participating schools continues to decline. The result is the service is no longer viable or sustainable."