If you went down to the Old Fire Station last night you would find the dance floor had much more furniture on it than usual, including some sofas awkwardly positioned perpendicular to the stage.
This can only mean one thing, it was that time of the month – time for Comedy Nation, the best value comedy night in town.
Compering the night was Kevin Shepherd, who kept the laughs coming with tales of agonisingly awkward moments from his life. The stories were made all the more believable by the some of the conversations he had with those in sat in the curiously arranged sofas in the front row. It turns out that trying to get comedy out of a PhD archaeology student is like trying to get blood from a stone (pun intended – by me – but I don't think it worked).
I enjoyed Tommy Rowson's set. It was hard not to. His South Wales accent means he is a comedian blessed with, what I like to call 'the Gavin & Stacey' effect. That is, even if you don't find what he says funny, you still enjoy listening to him say it. In his mouth the word Devil sounds like it should have a hyphen in the middle, and manages to get a laugh on its own.
Rowson's set had a subtle air of irony throughout, with highly flattery jokes based around God, Jesus and Bible stories. He is possibly the first person to observe that "Eve, from Eden, is the world's first page three girl". All fine with me, but I felt the audience were put a bit on edge by his half mocking, half praising style. It was hard to tell if he thought it was funny for the same reasons you did. This continued when he started to tell a room full of students how much he admired Nick Clegg. Perhaps the irony was too subtle. Once he had cleared the air with the line, "he may have done a deal with the devil, but OOH he's good looking", the laughs got a lot louder.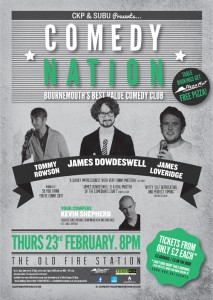 The biggest laughs of the evening were for James Loveridge, who filled the difficult middle slot brilliantly. It's impressive to watch someone tell some of the most excruciatingly embarrassing and self-deprecating stories with such enthusiasm and energy. For example, a tale of how he had been caught short after drowning the sorrow of multiple job rejection, and had to use his own CV as a toilet paper substitute. Bravo to Loveridge for keeping a huge smile on his face throughout, and bravo to the audience for laughing so wholeheartedly when faced with the grim prospect of job hunting after graduation.
Last on was James Dowdeswell. Through most of his set the confidence and experience of the craft which earned the headline spot shone through. However, some lines weren't said with the same conviction as others, indicating that he might be trying out new material, Which is totally fair enough. There's a first time for every joke and why not try them out on some friendly students who have paid as little as three pound to be there. The highlight for me was a perfect Stewart Lee impression. Dowdesdell pointed out that "85% of the audience aren't getting this [in character], but I don't care, it's not for them." I appreciated the thought.