The Spanish Foreign Minister Jose Manuel Garcia-Margallo has said that two Spaniards held hostage in Mali and two others in Somalia are in good shape.
"In Somalia, they guaranteed to me that everything is fine. In Mali, it was the president of the republic (Amadou Toumani Toure) who gave me an assurance," Garcia-Margallo told the Cadena Cope radio station "They are well."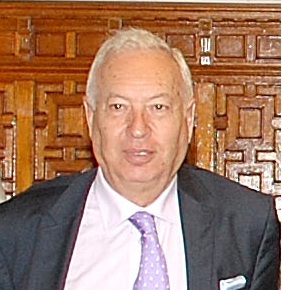 "We haven't ceased for a single day to work for the release of the two aid workers whom we have in Mali and the two aid workers whom we have in Somalia," the minister added.
"We are in permanent contact, but this subject must be treated with total discretion."
Garcia-Margallo declined to give details of a trip he made to Mali at the end of last week in order to gather details on the hostage issue.
Two Spanish aid workers, a man and a woman, as well as an Italian woman, were kidnapped on October 23, 2011 in the Tindouf region of southwestern Algeria, which is a stronghold of the Polisario Front independence movement in the neighbouring Moroccan- occupied Western Sahara.
The kidnappings were initially attributed by Polisario to Al-Qaeda in the Islamic Maghreb (AQIM), which has been highly active in Algeria, Mali, Niger and Mauritania since 2007, including taking hostages.
However, responsibility for the Tindouf kidnappings was in December claimed by an unknown armed group, the Movement for Oneness and Jihad in West Africa (Jamat Tawhid Wal Jihad Fi Garbi Afriqqiya).
The movement has made a ransom demand of 30 million euros (39.5 million dollars) to release its three hostages, according to a source close to the mediators in Mali.
The two Spanish aid workers held in Somalia, both women, were abducted on October 13, 2011, in Dadaab, the world's largest complex of refugee camps in eastern Kenya. The women, who work for Medecins sans frontieres (MSF – Doctors Without Borders), were taken across the border to Somalia by their kidnappers.
Islamist militants recently released a Spanish woman who was kidnapped in Mali for four months whilst working for aid group Barcelona Accio Solidaria.
The aid workers were held captive in Mauritania in late November and later taken to Northern Mali.
But yesterday, Mauritanian Prime Minister Moulaye Ould Mohamed Laghdhaf said his government refused to negotiate with "terrorist groups" or to exchange the prisoners to secure the release of the hostages.
The threat posed by terrorist groups in the Sahel is being taken very seriously after the death of British tourist Edwin Dyer in June 2009, killed by AQIM after six months in captivity when London refused to yield to blackmail by the Islamist combatants.