Most households in Dorset can now connect to the internet at speed.
Once upgraded to super fast internet, users can download a typical five minute song in less than a second. The broadband is available to 90% of Dorset.
Penny Syddall from Superfast Dorset project says they expect to bring faster, more reliable broadband connections across the county by the end of 2017.
"We're currently rolling about 90%. By the end of the year it will be about 95%. By this time next year or the end of 2017 we'll be another couple of percentage further on."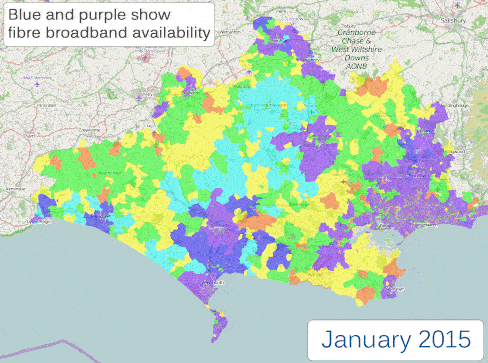 BT programme manager, Grant Munn, says the project only provides physical infrastructure for internet connection. Homes and companies need to contact their internet service provider to upgrade.
"What's we do is to make sure that the local equipments in the streets that serve a given area is accurately provided, then the individual service providers will offer a range of services at a range of prices using that infrastructure."
John Hourston, marketing manager in Bournemouth, says super fast internet is a necessity, but it could be expensive for low income homes.
"I pay about £40 – that is about the minimum for unlimited internet. I have a very low income because of the non-profit company that I operate. £40 is a lot of money and I would've imagined a low income family or unemployed people couldn't afford it. The government says that internet should be available to all. If a good service costs a minimum of £25-30, that is going to prickle quite a few people.'
Peter Bassett, a landlord in Moordown, gets complaints about internet speed from his tenants, but he has not yet decided to upgrade. "I have changed internet providers before and it ends up with the same problems. This time I'm going to wait for the feedback from other people using it and then I'll change."
In response to such concerns, the Superfast Dorset team suggests that they could talk to homes and businesses to discuss the internet plan that suits them best.