The motivation to pursue this topic followed a meeting with an asylum seeker earlier in May. Until then, I have never pondered on what life looks like to be as an asylum seeker and I really found this topic appealing because it is a significant topic in the UK at this time. Recently, I read in the news about alleged plans of the UK government to deport immigrants. At this point, I knew my story was very critical.

With this feature, my goal was just to detail the story and experiences of people who have been forcefully displaced from their homes. My intended primary audience is everyone with immigration in the United Kingdom. This includes policymakers, law enforcement agencies, national and local councils, NGOs, and the general public. The information in this story would provide fresh insight into the personal life of displaced people and can influence law-making, physiological support, and increased humanitarian assistance.

One of the challenges faced on this project was getting interviewees to speak to me. I visited a hotel hosting hundreds of asylum seekers, but I couldn't get to speak to anyone because of security and legal restrictions. Due to time constraints, I couldn't undergo the process of getting the legal authorization to schedule an interview with them. I had to think of other ideas like going to NGOs and organizations that have existing relationships with these people. I learned from this experience to always plan, especially for a topic where potential interviewees are not readily available.

During this project, I considered the ethical and legal issues especially as it concerns my interviewees. I learned that some refugees are facing protection and security challenges. Hence, it would be unsafe and unethical to put their information in the public domain. As such, I ensured that I asked my interviewees if they are happy to have their information in public and they gave consent. Similarly, I noticed that women were less receptive to granting me an interview. I do not know if this is a 'gender thing.' Maybe, if a female had reached out to them, it could have been a different answer.

While planning the feature, I understood the need to be objective and give a balanced view of the subject. I also considered gathering opinions of different genders. Successfully, I secured four interviews: one refugee, one asylum seeker, a former asylum seeker, and a volunteer helping forcefully displaced persons in the Bournemouth, Christchurch, and Poole council area. The idea was to be able to give different people's perspectives on this issue.

In making my short-form video, I decided to adopt the story of one of my interviewees who is an asylum seeker from Belarus. Among four interviews, I believed his story was more interesting and it had quality content that would tell a good social media story. Likewise, his video essentially captures the topic in summary and gives insight into what readers can expect while reading the main feature. At first, it was challenging to decide on the sequence of the short-form video, but after watching some related Instagram videos on BBC and Aljazeera English, I was able to create a template that formed my final edit.

While doing my background research and preparing interview questions, I used ChatGPT and it was very helpful. Also, I had to fact-check every piece of information I got through AI. The information I got from ChatGPT was quite comprehensive and I feel this topic deserves a more in-depth and lengthy report. Unfortunately, I am limited to a maximum of 800 words with this project. However, I am inspired to explore further on this topic.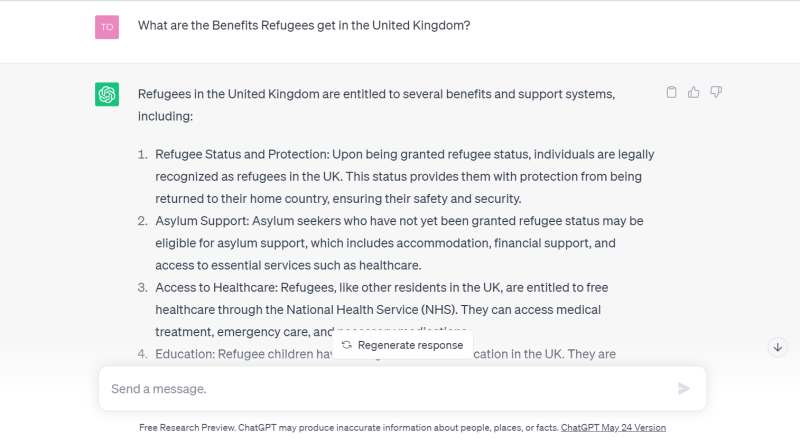 This assignment has taught me to always plan effectively and always create alternative plans, especially in cases of interview refusals. Furthermore, I have never met displaced persons, until now. This project really enlightened my knowledge of the challenges and issues faced by asylum seekers. I cannot imagine the psychological effect if I find myself in their status. I feel motivated to join an organization providing support to these people and contribute to helping them, in the little way I can.