Four engines are still in attendance at a thatched property fire which broke out earlier this morning in Alton Pancras. 
Ten engines and 60 firefighters initially tackled the blaze at the two-storey property after receiving a call just after 9am. No injuries have been reported.
The B3143 through Alton Pancras is currently closed in both directions at the Ripps Lane Junction.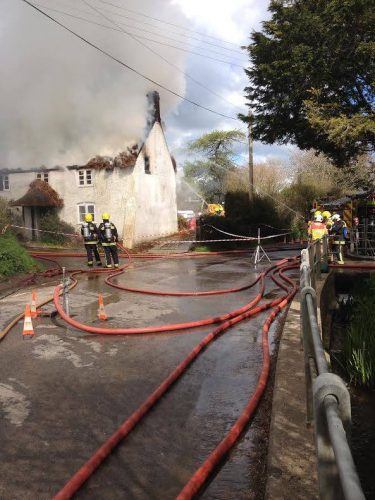 Dorset and Wiltshire Fire and Rescue told The Breaker,
"In order to deal with the incident, power in the area has had to be turned off, so we are asking residents in Alton Pancras to check on their neighbours."
"Fire crews are urging local residents to keep windows and doors and closed, especially if they live to the south of the village, due to the smoke plume".
It incident comes after 65 firefighters from Dorset and Wiltshire Fire and Rescue attended at thatch fire in Tincleton last Wednesday.
The service has warned that thatched homes, "carry a real risk of fire".
"Such fires can be difficult to tackle as the thatch is designed to repel water, so the straw has to be stripped away to give firefighters access to the flames."