A Dorset girls football team have been awarded the highest Football Association level status a youth club can achieve, in only their first season.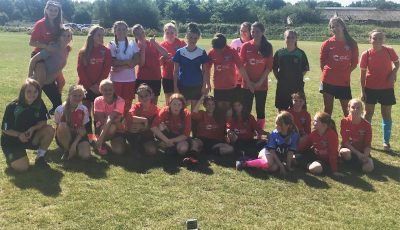 A representative for Verwood Girls FC said: "A lot of work was involved to gain this status. In the leagues you have to go for some type of Chartered Standard award and so we felt we wanted to go for the highest level we could.
"Getting this award is a good way of ensuring that going forward we can maintain the high level of standards that are already in place now. Children between the ages of 5-11 need the best coaching available and so we bring in outside coaches, with charter level 1 standards of coaching, that specialise in their own age group."
The award shows the FA have acknowledged the improvement and impact this club has had on the local girl's football community. Dorset FA have said that only 17% of girls teams have Development Club status, with Verwood Girls being the only one in the Dorset Girls League.
"The club is flexible and fun for the girls as no commitment is needed. We started with between 4 and 16 girls playing, and now there are over 150 girls being coached and over 70 playing league football every Saturday."
Partnership
Andrew Battison, AFCB Bournemouth Community Sport Trust said: "We are really pleased that the hard work of Verwood Girls FC has been recognised with them attaining the FA Charter Standard Award. This award is well deserved and testament to the hard work that Brendan and his colleagues have put into providing football for female players of all ages and abilities.
"Through our 'Linked Club' association we have hopefully offered some small support in aiding the Club, through recruitment, holiday courses, tours of the Stadium and also attending first team matches as our guests. All benefits that we hope have been well received, and continuing this partnership can only enhance the experience of the girls within the Club."