"I've had my media training," joked Freya Puttock as she affably stood in front of Poole Harbour, facing the camera.
On this day in June, Puttock is in Poole to join forces with others who share a similar vision, having arrived at the RNLI Lifeboat College to attend the Helping One Another event, organised as part of the National Volunteering Week.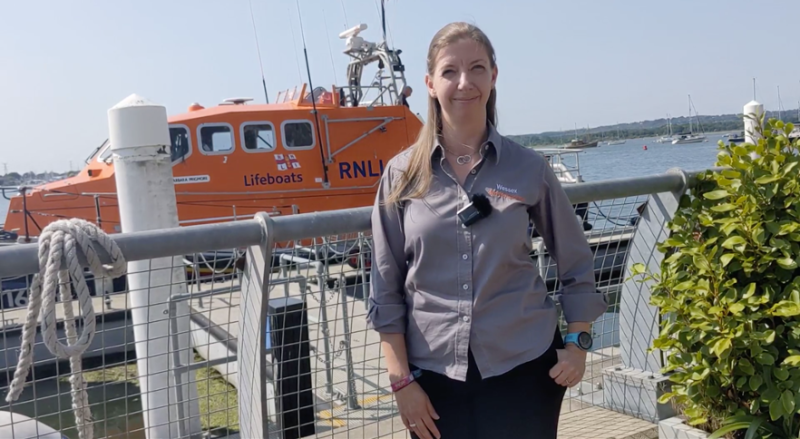 "It is vital to teach communities to be resilient," said Puttock, who is representing the charity Wessex 4×4 Response at the event, which saw 14 organisations coming together to interact and understand how they could work together for the betterment of Dorset.
Colin Weston MBE JP, the High Sheriff of Dorset, welcomed the attendees, who were eager to display their efforts to safeguard Dorset residents from disasters and critical incidents. Every group had the chance to showcase what they did to an audience of volunteers and members of emergency service organisations.
In between the presentations, a long break was taken, in which people could engage with the groups and gain knowledge of their roles. The idea? To allow like-minded individuals to network and build an understanding of the capability of each organisation in a crisis.
The RNLI's rescue of 108 migrants last year is a testament to the work such organisations do and their commitment to saving lives. Such critical work is achieved with the help of their core members, yet the need for volunteers remains strong.
Some groups, such as Puttock's Wessex 4×4 Response, rely entirely on the work of volunteers, who are invited join the charity with a "wish to help others". One key way her charity serve people, Puttock said, is with the use of 4×4 vehicles, which are used to help people in as many ways as possible. Imagine you get a call from your neighbour saying, 'Steve, my missus needs to get to work, and it's snowing. Can you help me?' That is the heart of Wessex 4×4, but in a much bigger way, according to Puttock.
The desire to help others was the core message at the event. Its purpose: to get several groups "coming together and helping one another" for a common cause.
High Sheriff Weston is still relatively new to his title, having only been selected by King Charles III as a representative for the county at the end of March. However, the High Sheriff has decades of experience with law enforcement. Weston joined Weymouth Customs in 1984, where he patrolled the UK coastline. More recently, he oversaw 1,500 magistrates whilst serving as magistrate for the South West. Now responsible for supervising all legal entities in the UK, including voluntary organisations, the soft-spoken Weston said he wanted to encourage everyone to mingle and "talk to each other," which, he said, would "fill in the gaps," regarding knowledge of how each group operates. "They find it quite rewarding, the work that they do," Weston said.
Another individual who spoke proudly of the work his organisation did was Tom Wright, Coastal Operations Area Commander for HM Coastguard. "We provide rescue for anyone who's distressed at sea around the UK coastline," Wright said. Wright represents the only national emergency service in the UK that "tasks" RNLI lifeboats, helicopters and coastguard teams. "We liaise with other emergency services to make sure we rescue people when they need us," Wright further said.
The service's connections, Wright said, can serve as a good way for him and his colleagues to find the "right" person to sign up and become a coast guard. HM Coastguard relies heavily on the support of volunteers. "We need someone who's motivated, honest, and is willing to work as part of a wider team," Wright said.
Wright felt the event was extraordinarily useful. By allowing to put "faces to names" regarding the "lesser known" organisations, people like him could agree on how to continue working together. Their teamwork is a continuation of the effectiveness that many other groups could bring in order to help HM Coastguard, in particular assisting with previous "major incidents".
Another leader keen to bring people together was head of Dorset Civil Contingencies Unit, Deborah Haynes. Haynes, whose responsibilities include calling together all blue light agencies, emphasised the need for ensuring as many people as possible are meeting the needs of Dorset residents.
The unit calls together the agencies as part of the Dorset Local Resilience Forum. Stemming from the Civil Contingencies Act 2004, the gathering allows many emergency services and local authorities to share vital information with one another. Much like Wright, Haynes intensely explained that connecting all who is involved was the best tool regarding "preparing for emergencies".
Haynes discussed the usefulness of bringing together the many organisations working to protect Dorset residents. "There's so many organisations that have amazing capabilities. It's really important that we all understand what each other is able to do," he said. "The whole purpose of today was to get everyone learning and talking."
This type of strength is what makes Dorset "resilient" as a county. Haynes reiterated that a key aim was to spread the importance of protecting the community to all Dorset residents. "When everybody is doing something, that's when Dorset is going to be as safe and resilient," Haynes said.
Many of the faces who save lives aren't paid a salary. They are volunteers, who take grave risks for the good of others. For that commitment, the people of Dorset owe them a debt of gratitude.