Eneco proposed the Navitus Bay Wind Park and hoping to bring capacity of up to 1200MW (maximum)to the UK, generating power for between 615,000 and 820,000 homes each year.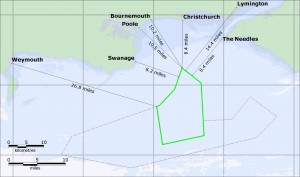 According to Eneco, the wind park will be 8.2 miles (13.2km) away from Peveril Point in Swanage. The northern boundary of the site is located 10.2 miles (16.4km) from Bournemouth and 8.4 miles (13.5km) south west of The Needles and the Isle of Wight coast.
The first round, offshore environmental and engineering surveys have taken place during 2011 and have been assessed. Starting with this Tuesday in Swanage,  Eneco is now holding their second public exhibition along the south west coastline. These consultations are mainly seeking public opinions on the impact the development might have to fishing, diving, commercial shipping and sea view point etc.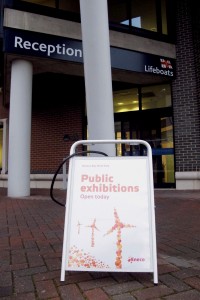 Visualisation analysis with a Dorset map also being displayed in the exhibition. The map invite citizen to pin point their concerned sea view location with stickers, Eneco therefore can identify the most important viewpoint of the sea. However, the main concern The Breaker heard from the public are more likely to focusing on the effectiveness those turbines have to generate enough energy.
Pam Edwards, residence in Poole said "I keep saying I can't see how this project can solve our energy problems. The energy they produce is only enough for 25,000 homes and thats means each wind farm can only cover 2 small towns."
In the exhibition yesterday in Poole, RNLI College, one of the staff from Eneco told The Breaker their turbines will have a 85% of working rate on the wind farm but the public is criticising on how long those turbines can stay in full power.
Malcolm King who moved to Poole ten years ago, said "I am skeptical, the doubt I have about them is when we need the most,the bitterly cold weather, quite frequently we don't get any wind. I understand generating energy is expensive, free wind energy sounds very nice but about the maintenance, construction and the running cost……especially having them in the sea will be expensive."
"I don't see any impact they will do to the sea view, they are far enough away, most of the time not to be noticeable. I think they (wind parks) are one of our least good opinions." Mr King added
Alison Fenwick, who is very concerns and interested in the use of renewable energy come all the way from Weymouth for the exhibition.
"The display they got up is very clear and fully shown what they are going to do. It remain to be seen what to come when they interview the local fishermen as well as other they have interviewed. There are still a lot of work to be done. It will be a good idea if they can think of some further schemes." said Mrs Fenwick.
Today, Eneco is holding the same exhibition in Christchurch Borough Council Chambers from 2pm to 8pm. Five more public exhibitions will be display in Dorset and Isle of Wight within the next two weeks, here are the venues:
Bournemouth Pavilion Theatre: Saturday February 25 from 10am to 4pm,
West Moors Memorial Hall: Tuesday February 28 from 2pm to 8pm
New Milton Memorial Centre: Wednesday February 29 from 2pm to 8pm
Lymington Community Centre: Thursday March 1 from 2pm to 8pm
Newport, Isle of Wight: Riverside Centre: Saturday March 3 from 10am to 4pm
As part of the statutory consultation process Eneco's public consultation will continues unit 2013, another round of public exhibition will be held again around Autumn this year. The project is still in its second stage of public consultation and Eneco said that the wind farm is set to be operational by 2018.