Winton is considering a plan to open a flea market on Saturdays that will add to local interest and be an event for the residents.
The market, planned on Cardigan Road, is aimed to provide local small traders, artists and the like, an opportunity to showcase and sell their products to a passing trade whereas they would otherwise be forced to travel or to trade on the internet. The street already has a farmer's market, and the idea is to alternate the flea market with it.
Winton resident Suzanne (last name withheld by request) who came up with the idea says, "I'd like to restrict it to unique products (not already available on the high street), handmade items, art, antiques…whatever will suit". Her post and a poll she conducted on the Winton Forum message board saw more votes in support of the idea.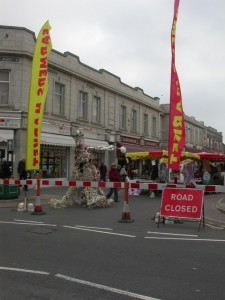 Bournemouth Councillor for Winton, Theo Stratton said: "It's a fantastic idea and I am positive that the residents of Winton and Bournemouth would welcome it". He added that he is in talks with the council and once the formalities are sorted out it would be good to go.
However, not everyone is supportive of the idea. Michele Kennedy, owner of Carly's Crafts in Cardigan Road said that she wouldn't welcome a new market in the area since it would shut her business off. She feels that as it is the farmer's market is affecting her business.
Chairman of the Winton Community Forum, Anson Westbrook said that it is a great idea even though there is some resistance to idea from local businesses.
In a message posted on the Winton forum, Suzanne says the greater intention of this project is to facilitate a market that will add to local interest and be an event, which Winton residents would welcome and be proud to recommend to visitors.