A Poole church has fundraised £100,000 towards redeveloping the church into a £4m community centre.
Poole Methodists' church in the High St wants to make the most of thousands of people who walk past every day, said minister Fraser Smith.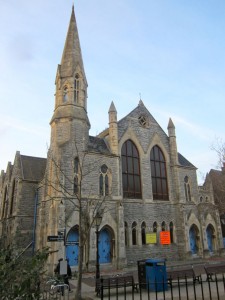 "Our vision for this community is that the church has a wonderful location, we can build a church centre, " said Rev Smith.
"But to justify spending that amount of money we wanted to be a community centre as well."
Rev. Fraser said: "We hope that charities will share our vision with us and join us in this effort."
The group of five Methodist churches has  raised the first part of the money and it can already guarantee the build will take place, he said.
Tricia Creamer, Poole Methodists said: "For the church community this is an opportunity many of us have been dreaming of for years.
"Coming together as we have done has pooled our talents and resources so that the future mission of living and working the teachings of Christ can become a reality in the community in whatever way we are lead forward," she added.
The project has been arranged in stages in order to assure it will be built.
The building will have two levels with the church upstairs and a cafe area on the ground floor.
The idea behind the redevelopment is to have a multi functional building for everyone and with the opportunity for different worships, performances or use of the equipment.
"That is a project that won't fail" promised Rev Fraser Smith.