A Bournemouth University student is attempting to run 52 marathons in 52 weeks to raise £10,000 for a cancer charity.
Sports student Ben Godbold's effort is in honour of his cousin David Godbold, who died of leukaemia six years ago.
"If I inspire just one person, that will be enough," said Ben.
"If I inspire just one person, that will be enough" – Ben Godbold
David Godbold developed leukaemia at the age of nine and battled it until he was 20. Before he died, he asked one thing of his cousin: be an inspiration.
Since then Ben has worked hard to live up to his cousin's wishes, balancing sports goals and charity work, which resulted in his selection as an Olympic torchbearer in 2012.
In addition to his current challenge, Ben says he hopes to become the first person to run 100 marathons before he is 23.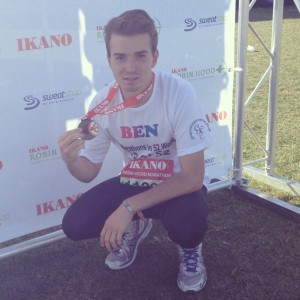 Ben, now 21, started his challenge at the London Marathon this year. He explained that this mile-stone year has particular significance to him, as it is one that his cousin will never reach.
With 18 races under his belt, Ben says he has already raised around £5,000 for Leukaemia & Lymphoma Research, CLIC Sargent (for children with cancer), Alzheimer's Research UK and Alicia Pannell.
Head of sports events at Leukaemia & Lymphoma Research, Dan Solley, said, "We are constantly inspired by the stories of those taking part in events for the charity and the dedication of our supporters like Ben.
"Every penny raised for Leukaemia & Lymphoma Research will help us in our mission to beat blood cancer – stopping people from dying and making patients' lives better."
Ben says he intends to finish his challenge at the 2014 London Marathon, where he hopes to don a superman costume and skydive onto the starting line.