A double treat lies in store for Poole residents next month, as an outdoor art trail coincides with the opening celebrations for the Twins Sails bridge.
Brilliance 2012, in its second year, which opens on March 9th, the same day as the official inauguration of the Twin Sails, will bring together 25 artists from the area.
After its success last year, organisers from the Arts Development Unit are looking forward to a larger gathering of art lovers due to the particular timing of the event. The works for the three-day event are on display in the evenings between 6: 30 PM and 8: 30 PM.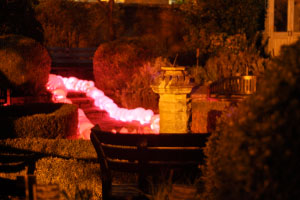 The event gathers its name from the use of lights to illuminate the artworks. People can catch a glimpse of works ranging from oil on canvas, to 3D installations, along the Poole Quay and Poole High Street. "This time we have concentrated the route within a smaller radius, so people can easily access the art works. They will not have to walk much to view any of them," says Caroline Rackham, Project Coordinator, Brilliance, who has finalized the works for this year's showcase.
There are visual artists like Hazel Evans, who will be showcasing her installation The Flower Forest, which is based on the theme of a forest of flowers where models and flowers will be illuminated in an interplay of light and shade.
There is also a laser installation piece, Dollhouse, by Tate Award winning artist Charlie Ward. Her piece attempts to narrate the story of people living inside the dollhouse by means of a laser light projected inside the house. The aim of Brilliance, says, Miss Rackham is, "to renew the business ties between local traders (on the Quay and High Street) and artists. There have been few occasions where traders have commissioned local artists to do some work for their business."
The Twin Sails celebrations:
There will be an evening of entertainment along Poole Quay on March 9, similar to the summer fireworks display, with a two-hour performance by fire dancers, a live acoustic band, circus skills workshop for children, balloon modeling and much more.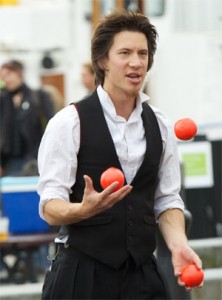 The evening will culminate with a show of fireworks on the harbour. "This occasion is for family and friends to gather at the Quay, to celebrate the opening of the Twin Sails bridge," said Anne Simpson, Special Event Manager, Poole Tourism.