Action Fraud are alerting about a new scam: plane tickets, and if you are searching for cheap flights abroad, you may be a possible victim.
The scam has been classed as a level 5 (out of 5) priority crime prevention. Victims report booking tickets via websites or a "popular" ticket dealer. After paying online, they found that their tickets and booking references were fraudulent, though appearing to be very realistic. In some cases, communication between the company and the victim were cut off.
It seems like targeted victims are those who wish to travel to Africa and the Middle East, particularly during popular public and religious holidays.
Action Fraud advise you to:
Be watchful if asked to pay directly into a private bank account. If possible, pay by credit or debit card,
Research any company you're purchasing tickets from: look for online customer's negative reviews,
Check the website for professionalism,  spelling mistakes, irregularities, landline and full postal address,
Not to purchase tickets from a third party, especially when first contact has been via social media,
Be wise, if tickets are cheaper than any other vendor: it's probably a scam,
Check the logo: is the company a member of a recognised body (like ABTA or ATOL)?
The Office for National Statistics's latest study for fraud and computer misuse (ONS) says that:
"In response to an ever-changing world, fraud has evolved more dramatically than other crimes over recent times with the rise of computers and the internet, and the introduction of 'plastic payment'."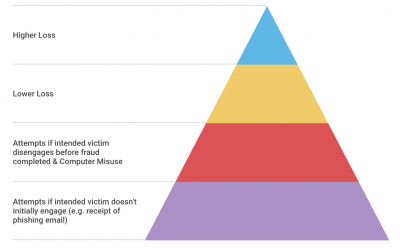 The pyramid shows the relationship between the intended victims harm and the volume of frauds. Luckily, the figure indicates that the most common outcome of frauds is those involving no or little harm of the people they are aimed at.
Crime Survey for England and Wales (CSEW) reveals that only 14% of incidents of fraud and computer misuse either come to the attention of the police or are reported by the victim to Action Fraud.