A former Bournemouth University student president has revealed the challenges facing Black and gay people in the local area.
As apart of events celebrating Black History Month Daniel Asaya said:
"This Black History Month event sends a strong message to Black students to say that even though you are a student in a place that's not as diverse as London or Manchester, we are thinking about you and want you to feel included."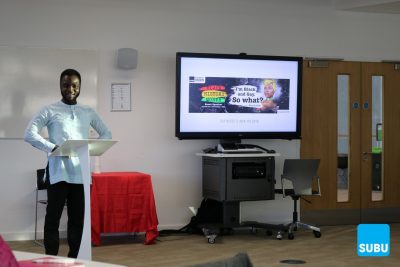 According to the 2019 Bournemouth performance review black and ethnic minorities make up 8% of the local residents. This is far fewer than the rest of the UK and a significant amount of that could be Higher Education students.
Daniel, 28, who was the first Black president of the students union said he struggled initially to come out as a gay man and added that holding the black queer event in the month that commemorates black excellence speaks volumes.
black excellence should include anyone regardless of identity
"Sometimes when we say Black lives matter, we don't mean Black trans lives, we mean Black cisgendered lives so this is a message around intersectionality to any Black student that is also queer to say both of your identities are valid and they need to be celebrated […] black excellence should include anyone regardless of identity" says Daniel.
On students struggling with identity issues he advises to join the LGBT society. The society in the students union is not as racially diverse and black students could find it daunting but advises to take a friend as support and engage with others.
There are a number of materials online for non students, the former president said:
"I have a Youtube channel where people will come and share their stories, there is power when you see someone that looks like you and that will help you to validate yourself."
Now CEO of his own company Living Free Daniel helps to support LGBTQ+ Africans, asylum seekers and refugees through programmes such as, Global LGBTQ+ Hub and Living Free with Dan.
Celebrity blogger Bandy Kiki
Also on the panel of speakers was celebrity blogger Bandy Kiki. The Cameroonian native and activist raises awareness on LGBTQ+ awareness through social media and visited Bournemouth to share her story around sexuality and blackness.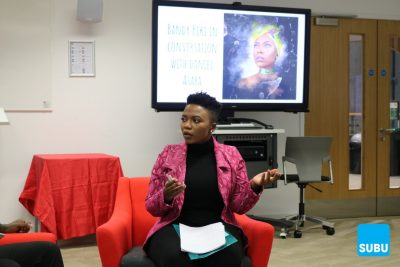 She spoke on the differences that growing up in Cameroon and moving to the UK had on her before she started to live in her truth.
"Everyday I find myself in spaces that embrace one facet of who I am but deny another. I can be a woman as long as I'm not black. I can be black as I'm not African. I can be African as long as I'm not a lesbian."
Bandy encourages all LGBTQ+ to be happy "happiness is key and very personal, it's all about you and your mental health first."
Topics surrounding homosexuality are considered taboo and too westernised for African culture but Daniel Asaya and Bandy Kiki are helping to shift the narrative.