The local woman has spent the past year fundraising for The Sound of Animals charity in North Eastern Thailand.
The charity helps to give dogs a second chance at life after escaping their fateful end as a local delicacy.
Property Service Manager from Bournemouth, Laura Davison, says she has raised "around £10,000 through organising a festival, bootsales and a sponsored run". This helps to pay for vaccinations, medication and food for the dogs.
500 ex-slaughterhouse dogs left homeless
According to The Sound of Animals founder, Michael Chour, roughly 500 dogs were left homeless and in need of daily care following the outlawing of the dog meat trade in Thailand in 2011.
The Blue Dream shelter was set up by Michael in 2017 to house the survivors and continue to fight against the illicit trade which is still legal in neighbouring Cambodia.
Miss Davison has just returned from her second trip to volunteer at the shelter in Buriram. She sacrifices every holiday to help care for the dogs.
I will continue to campaign against the dog meat trade
Laura hopes to adopt one of the dogs at the shelter to bring back to Bournemouth. She said "I want to give him a good home and I will continue to campaign against the dog meat trade".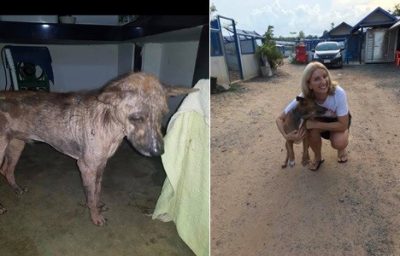 Miss Davison tells us, "the Sound of Animals wants to help teach the next generation in Asia to love and respect animals".
Views on the dog meat trade appear to be changing in South East Asia from one generation to the next.
Vietnamese student at Bournemouth University, Phuong H. Do, says "there are two different opinions in Vietnam. Middle-aged people still eat dog meat and young people are fighting against the dog meat trade".
To find out more information about the Sound of Animals charity, please visit https://thesoundofanimals.com/cambodia/