A man who rowed across the Atlantic to raise funds for the RNLI shared his story at the annual general meeting of the organisation in Poole last week.
David Whiddon, a lifeboat trainer at RNLI (Royal National Lifeboat Institution), rowed with his friend Lloyd Figgins for 3,200 nautical miles in 60 days from Morocco to Barbados last year.
[one_half]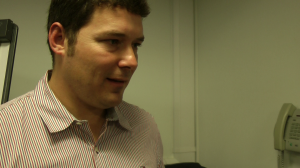 [/one_half]
Mr Whiddon said: "I have raised around £14,000 for the RNLI but it's hard with fund raising because people are cutting back."
The life boat trainer hoped to have raised the full £24,000, the cost of training one member of the station's lifeboat crew.
"It's for the RNLI, but I wanted it to go towards crew training so the volunteers can go out and do the wonderful job of saving lives at sea," Mr Whiddon said.
There are 39 crew members at Poole station and only one of them is a full-time paid member of staff.
Jacqui Maugham, who works as a volunteer said: "95% of the work for the RNLI is done by volunteers."
"The RNLI needs to raise £385,000 per day to provide its services, without that funding services would have to be cut," she said.
Chairperson at Poole District Fundraising Branch Adene West-Webbe said: "It's a lot of fund raising that we have to do in any areas across England and the Poole branch has raised just over 74,000 this year for the RNLI."
RNLI claims to have saved at least 140,000 lives at sea since 1824.
For his next expedition, Mr Whiddon plans to cycle from Argentina to Alaska to raise more money for the RNLI.
Main Image credit: Harris Badar