Bournemouth Council takes a step towards a greener Dorset with new eco-houses.
Three new two-bedroom houses in 35 and 37 Cunningham Crescent in West Howe will soon join the Council's menu for those waiting on council housing.
Green Party councillor Simon Bull believes it's a great step forwards towards a green economy in Bournemouth:
"All homes should be built with the environment in mind. I don't know if they will be doing this at a larger scale, but one can hope that they will."
These buildings will be energy efficient, achieving up to 90% of energy reduction compared to the standard UK house.
These are the first council homes inspired by the 'Passivhaus' standard.
What is the 'Passivhaus' Standard?
This eco-friendly design standard originated in Germany, in the early 1990s by Professors Bo Adamson and Wolfgang Feist.
The Passivhaus Standard organization defines it as:
"A building, for which thermal comfort can be achieved solely by post-heating or post-cooling of the fresh air mass, which is required to achieve sufficient indoor air quality conditions – without the need for additional recirculation of air."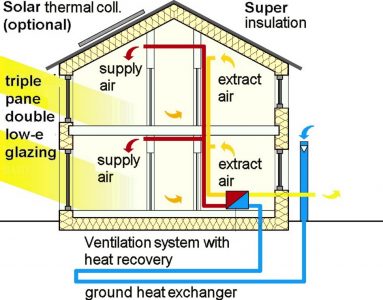 This eco-friendly Standard has been used in buildings in European countries, Australia, China, Japan, Canada, the USA and South America. Even a research station in Antarctica follows the standard.
An economical design too
The council hopes that these will not be the only Passivhaus homes in Bournemouth, looking to spread the ecological standard accross Bournemouth, reducing fuel poverty and local's energy bills.
Bournemouth Council will invest approximately £555,000 in the house construction process, which is scheduled to finish by the end of the year.