Bournemouth Council are running the Red Flag campaign in Bournemouth town centre today. The council is teaming up with Bournemouth University, Dorset Rape Crisis, The Shores, and the Police to raise awareness about sexual violence.
"I think it's great that they can all partner up together, share resource, share information […] it's nice to see that kind of level of corporation between charities, universities and the police" says Rachel Skinner, a Bournemouth University PhD student in Psychology.
The campaign is being held in Bournemouth square from 10:30 am to 4:oo pm. Last year, the campaign was held on Talbot Campus, and had a great impact on students and staff at the university.
"We ran it at Bournemouth University on Talbot Campus last year and we found that it did increase awareness of sexual violence" says Rachel.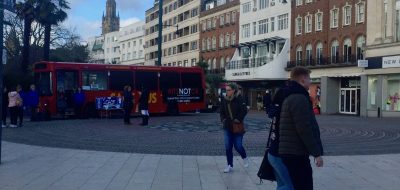 The Police are partnering up with the council led Red Flag Campaign and have helped Rachel in her research on sexual violence.
"I think it is important that people are aware that the police do take this seriously, I feel like a lot of people don't think they would be taken seriously if they do take a report to the police."
Sexual violence is still a big problem, especially for students, who are the most at risk of being assaulted, with female students being more at risk of being sexually assaulted than male students.
"A lot of research has shown that student populations are more at risk of being assaulted […] I think the current rate is estimated to be about 1 in 5 students are assaulted" Rachel explains.
Interview with Rachel Skinner