Bournemouth's Ultimate Frisbee team travelled to Southampton this weekend to offer those curious about the sport a chance to compete against rival teams.
The club, named The Bournemouth Ultimatum, have recently taken on new members so they took them to a two day tournament, which is tailor made for beginner players.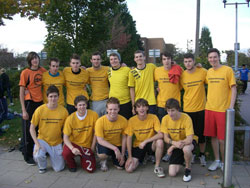 Club president, Will Burton, 20, said the weekend was a success. "Most people haven't heard of ultimate Frisbee, let alone played it before, so it's great to have this opportunity to show people what a real game looks like and play in an actual competitive game."
Ultimate Frisbee originated from America in 1968 and has been growing hugely in popularity ever since. The aim of the game is to pass the disc to a player in the opposing team's endzone, much like American football, however you are not allowed to run whilst holding the disc, similar to netball.
The tournament was organised by Southampton University at Fleming Park Leisure Centre and has been an annual event for many years.
"It's a tournament for beginners but there is an experienced division as well, with a total of 26 teams from all over the country," said tournament director Alex Burke, 23. "We also have three or four high school teams down from London, which is great to see because we're spreading ultimate more than we have done before."
Bournemouth finished 10th place after a nail biting 'golden goal' finish against local rivals, Southampton. One of those playing for the first time was Oli Jones, 18, who discovered the sport when it was recommended by a friend. "I've really enjoyed the whole week end, this will definitely be the first of many tournaments."
Related articles
Who needs a referee? (dejongjourno.wordpress.com)
Things to Know About Playing Ultimate Frisbee (blogcritics.org)