Bournemouth University postgraduate students are developing a project idea to sell to UK's Universal Music.
The project focuses around a teaser of the music track Levels by Avicii and its purpose is to pitch the idea to the manager of Universal Music.
The team started their initial filming on Sunday. The video portrays a number of people dancing at a club while a man and a woman with "tv heads" face each other and find the meaning of love. Paris El-Said, the director of the video, said: "The project consists of a cross-platform where the audience can interact with this artist whether that is through a website that we are going to include, videos or pictures or applications for the user to give him the chance to be a part of this music video."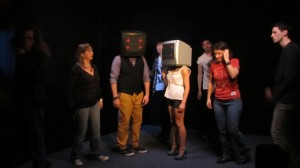 The cross platform application will be compatible with iPhones, iPads and Androids. Mr El-Said said: "What we are trying to do is promote this artist through various radio promotions where we record radio advertisements and try to mix them with the actual music track."
The radio advertisements will include a contest where the user would be able to create his own remix of the song, direct his own music videos, and adjust them on the "tv head guy".
The aim of the team is to complete the cross-platform ideas by March 27th .
The media postgraduate students are divided into groups and all of them are aiming to sell their ideas to Universal Music but each group using a different concept.
Click on the video below to see the full interview and shots of the music video.
CAUTION: flashing images

Video produced by Andria Archontides