A new survey by the Breaker has found that more than 50% of parents are unsure about whether they want their children to receive the COVID-19 vaccination. This comes after a provisional government plan leaked to the Telegraph suggested that children could start receiving vaccinations from August onwards.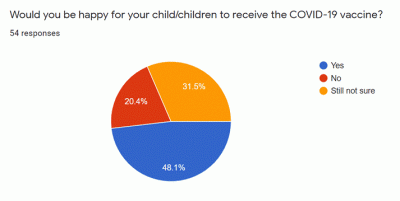 Currently, the government is thought to be delaying child vaccinations until data from an ongoing study by Oxford University can prove their safety.
Although children receive a wide range of routine vaccinations, starting at 8 weeks old with the 6 in 1 vaccine, the testing for COVID vaccinations has not yet been thoroughly carried out on children.
Back in February, when trials on children started, Andrew Pollard, Chief Investigator on the Oxford vaccine trial, said:
"It is important to establish the safety and immune response to the vaccine in children and young people as some children may benefit from vaccination."
However, many parents are still hesitant. A participant of the survey, who wishes to remain anonymous, said:
"Until they have shown there will be no LONG term side effects my children won't have the vaccination."
Another said:
"If primary children don't transmit or generally get ill why do they need the vaccine?"
Currently 50-54 year olds are being invited to have the vaccine, but the government aims to have vaccinated all willing adults by July 31st.
Since the European Commission announced plans for a Digital Green Certificate, the term 'vaccine passport' has become widespread. But it seems that this has not had a huge impact, since trust in the vaccine was already high.
Another Breaker survey found that, despite fears about the vaccine regarding children, most adults are confident in having it. In a group of 419 people, 278 said that they had already received the vaccine, which they would have done regardless of vaccine passports. Just 19 people said that they have received the vaccine, with vaccine passports being the deciding factor.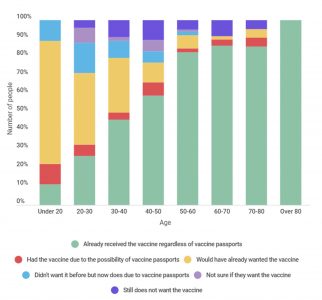 62 people said they they would have received the vaccine anyway when offered, and 17 said that they would not have wanted it before, but the vaccine passports have made them change their minds. Only 43 said that they would still not want to have a COVID-19 vaccination or were not sure.