Different reactions come from Bournemouth residents as the 3,000 tonnes of steel and 8000 tonnes of concrete Imax building has finally started on its path of being demolished.
Though, in general, people breath a sigh of relief on seeing the huge "monster" being demolished after years of protests, many residents show their disappointment and criticise Bournemouth Council for the "huge waste of money over the years." While some people think it should never have been built, others think it should have been demolished years ago when all the businesses within it closed down, with few "Imax" supporters believing that money could have been invested to use the building for some other activities.
[one_half]
Built from the ruins of past Pier Approach swimming baths, Imax Waterfront complex opened its doors to public as a cinema in 2002. It immediately saw the Bournemouth residents and visitors welcome it with severe protests resulting in its shutting down in 2005 after only three years of its construction. By then, all the other shops within the building had shut down, and it remained deserted and unused for years.[/one_half] [one_half_last]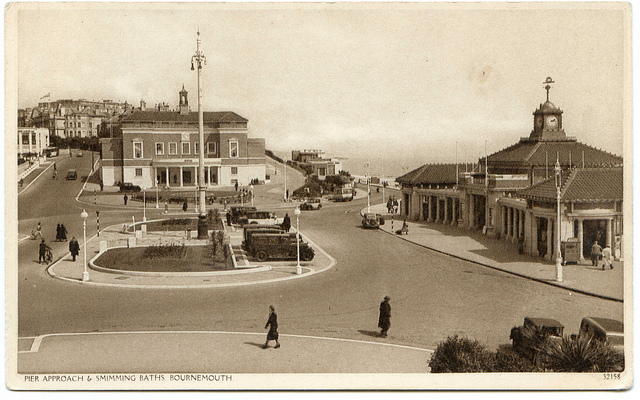 [/one_half_last]
Meanwhile the town was split between IMAX supporters- with Facebook campaigns to save it and use it creatively for shows or as a students' space- and people asking for its demolition, officially naming it "England's most hated building."
In 2011 it was estimated that keeping Imax building, even empty as it was, was costing the tax payers about £500,000 a year. Now, the demolishing operation has started and it will cost £2m which will be used from the money left over from its original £8.5m budget.
Councillor John Beesley, Leader of the Council, said: "This is a historic moment for Bournemouth. Our residents have been telling us for years that they hate the building and would like to see the sea views restored and so I am delighted that we are now in a position to fulfill these wishes. Today is the day when the work has finally begun and very impressive it is too, to see the machinery in action."
Demolition equipment started dismantling the buiding at 9.00 pm on Friday, 15 February 2013,  as a small crowd gathered around to witness the historic event, while others follow it on the Bournemouth Council's site webcam.
Bournemouth Council said that around 98% of the building will be recycled, much of it locally, and in total 13,500 tonnes of building waste will be removed from site.
Works are expected to finish by the end of March and the new outdoor events space at Pier Approach will be completed for use again by the Summer of this year.  A programme of scheduled events will be announced in the spring.
Picture:  Alwyn Ladell
Main Pictures courtesy: Cristina Odero,  Alwyn Ladell,ClifB