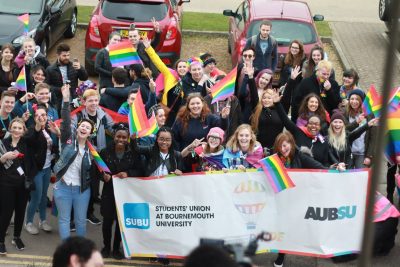 Gay Pride was celebrated yesterday by students at Bournemouth University.
Billy Clarke, a sexual health nurse at LGBT clinic Over The Rainbow, said the Talbot campus event was "amazing."
"It's getting bigger every year," he said.
"It's very inclusive this year – we're seeing LGBTs, straights, gays, bi, trans – with their rainbow flags on their faces. It's fantastic."
The event took place from 11am with live onstage performances, stands from local LGBTQ businesses and charities, food stalls and keynote speakers.
It coincided with LGBT History month in February, which aims to promote equality and diversity for the benefit of the public.
Billy says the annual event has successfully raised awareness of Bournemouth's LGBTQ community.
"Lots of young people used to hide their sexuality. Now they're out and proud, and that's what we want," he said.
"Bournemouth has the fifth largest LGBT community nationally – did you know that?"
"It means so much to me"
Seamus O'Dare is a Communications Executive at the university's Student Union SUBU.
He's told The Breaker how the celebration changed his life.
"The student pride event inspired me to come out to my family this time last year, and this year I can celebrate with my fellow LGBTQs," he said.
"It means so much to me that SUBU organises this event to embrace the LGBT community and make me feel so happy and accepted as a gay."
Seamus is a member of the university's performing arts society, and compèred at their showcase event on Friday in aid of Over The Rainbow.
The showcase involved a variety of performances from those in the society – including singing, dancing and juggling.
Click here for advice and support on coming out as LGBT
Find out more about Bournemouth's LGBT clinic Over The Rainbow
Find out more about what's happening with BU's Student Union