Stalls were set up on the ground floor of the Student Union building, with leaflets which promoted veganism in abundance on tables.
Student volunteers held signs with a Valentines Day theme, one which read: 'Dairy is a Heartbreaker, Go Vegan'.
Some stalls gave away free chocolate samples and leaflets with advice on how to go dairy-free.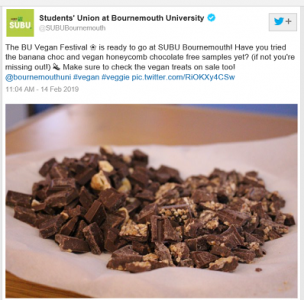 There were popular stalls which sold pastries and pizzas, which were made with plant-based cheeses and meats, such as Earth Mother's Vegan Food.
Some of the food on offer included herby sausage rolls, pizza slices, as well as healthier salads.
Animal Equality attended the event, which is an International Animal Protection Organization.
They invited students to experience VR headsets with footage of farmed animals.
It was a busy day, and staff and students enjoyed the event, regardless of whether they were vegan or not.
Hakay Ross, who was on the 'Happy Vegans' stall at the event, said the day went 'amazingly'.
He said: 'I had so many opportunities to speak to open minded and interesting people.
'What was wonderful is how many individuals, if they weren't vegan already, had such a desire to change their diet.'