Businesses along Bournemouth's iconic seafront have expressed concern at plans to build an off-shore wind farm at Poole Bay.
Eneco plan to build between 150-240 wind turbines, several times taller than Old Harrys Rock, which will be visible from Bournemouth beach.
Conservative councillor Mike Greene, a member of a Task and Finish group set up to investigate the proposals, said: "Potentially, we've got some real damage to the sea view, which is the whole reason people come to Bournemouth.
"Evidence suggests that there could be a 20-25% drop in the room values for hotels which look out over wind farms. It could be catastrophic for the tourist industry in Bournemouth".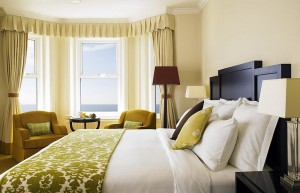 Park Central Hotel in Bournemouth charges up to £133 per night for sea view rooms. General Manager Marianne Slettedal said: "Our main marketing tool is the seafront, our view, our proximity to the beach.
"Bournemouth beaches are famous for their views. It's going to have a great impact on tourism – I'm absolutely against it."
James Barron, restaurant manager at cocktail bar Aruba, located right on the seafront, agrees. "Our whole business is basically based on this view. You don't see anyone sat in the middle of the restaurant – you see them sat by the windows.
"All of the summer trade comes here because of the sea view. If we stick big wind turbines in the middle of it, we'll be in trouble".
The turbines could provide energy for up to 820,000 homes. A public exhibition of the plans will be held at Bournemouth Pavilion on Saturday, February 25th, from 10am-4pm.