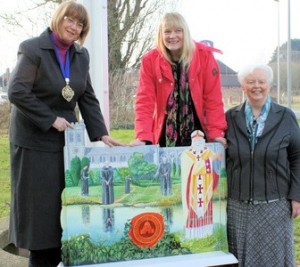 A village sign board painted by a famous artist in 1920 has been refurbished and installed again by the council in Christchurch.
The sign has been designed by Eustace Nash, a famous cartoonist from Winton. It came as fourth in a competition held by The Daily Mail to promote the revival of village signs. Some of Eustace Nash's works can be found in Russel-Cotes art gallery in Bournemouth.
As the sign started showing signs of its age the, Christchurch Council asked a local artist Cherie Wheatcroft, to replicate a hand painted copy of the sign on stainless steel.
Miss Wheatcroft said: "The old sign was designed by one of Bournemouth's famous artists Eustace Nash so I was really excited when the project was offered to me. I just revamped the sign, the art is still very his own".
The competition was the result of a speech made by the Duke of York about the revival of village signs. The Daily Mail found a land at Somerford to erect the sign in Christchurch in 1922.
Cllr Sue Spittle, the Mayor of Christchurch said: "I'm delighted to see the sign back in place and looking so radiant and bright. This really is a unique and valuable part of the history of Christchurch. Long may it continue to provide a marker to people coming into the Borough".