Bournemouth University's men's basketball second team has scored a narrow victory after beating the University of Southampton 79-77, putting them third in the university league.
The game got off to a winning start for Southampton, who scored the first two points.
However as the game progressed Bournemouth were on fire and despite the first few points going to Southampton they shot to the lead with countless points scored by shooting guard Lawrence Wright, ending the first quarter 25-8.
Southampton came back stronger with a steely determination in the second quarter but were no match for Bournemouth who finished the quarter leading Southampton 41-22.
Bournemouth continued to dominate at the start of the third quarter but Southampton soon narrowed the gap with the points quickly building up. The quarter ended 59-48.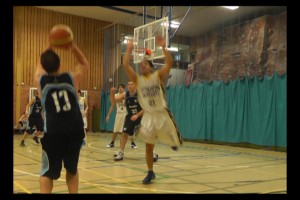 The final quarter saw an interesting turn of events when Southampton really got their groove back and managed to equalise at 62 each, just five minutes before the end of the match. However this didn't last long and Bournemouth quickly put themselves back in the lead.
Despite Southampton's best efforts Bournemouth narrowly won the match by just two points.
Bournemouth will play the University of Wales Institute next week in the quarterfinals.
Coach Steve Ansell said: "The match went well, I'm happy with the win and I'm happy with the performance of the guys, but there is still plenty to prepare for in training though."
When asked who the star of the match was, Ansell replied: "We had some brilliant stand out performances but I wouldn't like to single anyone out yet."