Condor ferries has closed its Weymouth port this weekend and moved services to Poole Harbour after safety concerns.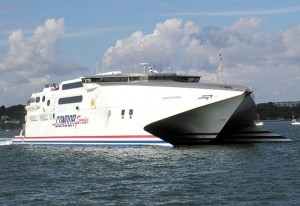 Earlier in the week concerns were raised by Condor Ferries and Weymouth harbour about the safety and structural integrity of the ferry berth.
The berth is going to be removed from the port to allow structural engineers to conduct a detailed investigation.
Captain Fran Collins, operations director of Condor Ferries said: "The safety of our passengers is always our highest priority and we have taken this step to help sustain our lifeline ferry services between the Channel Islands and the UK.
"We are in close cooperation with Poole Harbour Commissioners to make sure the change of port goes as smoothly as possible."
Passengers travelling from Weymouth with Condor Ferries this weekend will be affected by the change of Port. Departure and arrival times will also be disrupted.
Weymouth resident, Murielle le Boedec gets the Condor ferry from Weymouth to St.Malo around five times a year to visit her family. She hopes that service from Weymouth port will resume soon.
"I get the ferry from Weymouth because it is convenient. It's more money to travel from Weymouth because it's a smaller port but I am happy to pay more because I don't have to worry about travelling or traffic.
"Now I am going to have to travel to Poole which adds an extra 40 minutes onto my journey."
Services will be reviewed next week once the structural engineers have finished their investigation.
Related Links