Competitions, new deals, budget cuts and first timers, were the highlights for this year's wedding exhibition in Bournemouth.
I Make your Day photography, which has been in business for 12 years, has had to slash down their prices by 50% this year to fight their competitors. "Digital cameras have made it possible for just about anyone to be a photographer. My packages are being sold for £1000 instead of £2000, I've now got to offer more for less," said Gordon Wray, of the company.
Photo Lounge on the other hand is "keeping an eye on the competition's prices" to decide what deals to offer their customers.
However, beating competitors' prices is not the only strategy being adopted by the businesses.
According to Leslie Adam of BH13 photography, he gains a lot of business through cross referrals from his wife's business of wedding cakes.
Forging into different ventures simultaneously is another strategy that the businesses adopted to get ahead of their competitors. "Combining two markets in one place gives us an edge over our competitors, no one else is doing what we do," said Shireen Azzeddin, representative for Born Beauty Boutique, whose business USP is beauty salon and a boutique under one shop.
A wedding gown is perhaps the most important ingredient in a wedding. However, this economy has not spared even this integral part of a wedding, still businesses are fighting to provide the dream dress that every bride wants.
'Budget bridal shops' which offer gowns at budget prices have managed to keep afloat in the recession. Wedding dresses ranging from £50-900 are available at these shops.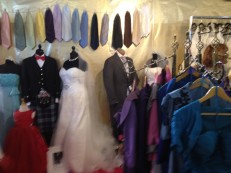 Special offers by venues were showcased at this exhibition. Special wedding packages at £2013 for weddings in 2013 were highlight for Menzies Seafront, a 4 star hotel. Even Mojgan Bridal Couture understood the economy well enough to offer prices at low enough rates to attract more customers.
Still new deals is not all that was being sold at the exhibition. Many business owners felt that tried and tested formulae were a safe bet.
Laura Flora attributed her success, in this highly competitive industry, to keeping up with trends and specialising in one market.Laura Preedy, the owner, has used the repeated tactic of using shirtless muscled men covered in glitter to advertise her stall each year. (Check out the Breaker's interview with Laura Flora).
Though these businesses have plenty of reason to be so competitive, it did not deter newbies form taking a part in the exhibition and try and make their presence known amongst the veterans. Chilly White Ice cream, fresh ice cream served in a old-timey fashion, Monkey World, a chance to marry in a monkey sanctuary, offered full packages at budget prices. At the same time new, personal but affordable, salon and make up services, such as Hair Zone, which work with brides up to six months before the wedding, are starting to make their mark in the wedding industry.
This wedding exhibition was , however, not all business. There was also a wedding show that showed latest trends being showcased at this year's exhibition.
Photo, Video & Audio: Nickta Rowaichi