Dorset Police are investigating supporters of the far-right English Defence League (EDL) for allegedly threatening to "torch a halal" butcher shop in Bournemouth.
The threats were made earlier this month on the Facebook page "EDL Bournemouth English Defence League", under a photo of the shop, Maisha Cash and Carry, on Wimborne Road.
The page administrator states, "We will be sending them a msg that they are not welcome in Bournemouth," and calls for "peaceful" opposition to the sale of halal meat.
Comments below the post included apparent calls for arson. 'Adrian Staff' wrote, "Fuck this!!!! Need to torch it…."
'Mark Fenton' commented, "burn it out". Both comments received 'likes' from other users.
"No one has ever complained and we have regular customers from all parts of the community, not just Muslims" – Russell Hamid, shop worker
The EDL Facebook page has over 2,500 followers.
Shop worker Russell Hamid said they had received no threats, but that several people had offered support.
"We have been open for six years, and have never had any issues," he said.
"No one has ever complained and we have regular customers from all parts of the community, not just Muslims.
"This is a marketing campaign for the EDL."
The page also features a photo of a woman wearing a hijab on a Yellow Bus. She can be seen attempting to hide her face.
Bob Cox, from the local branch of Unite Against Fascism, said, "The EDL have a history of violence on the streets when they protest.
"They claim to be peaceful, nice people, but the reality proves to be the opposite. When we campaign against them we always have support from the community."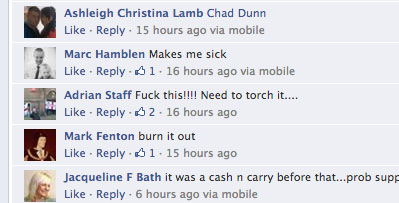 The Facebook page administrator did not respond to the allegations.
EDL maintains it is a "peaceful" organisation, however its supporters have been linked to previous arson attacks.
EDL activist John Parkin was jailed for 18 months after he threatened to burn down a mosque in Rhyl last June.
And in 2011, Simon Beech, a supporter of the EDL and the British National Party, was jailed for ten years alongside accomplice Garreth Foster after setting fire to a mosque in Stoke-on-Trent the previous year.
The revelation comes a week after 12 of the group's leading members, including leader Stephen Yaxley-Lennon (also known as Tommy Robinson), resigned form the organisation.