Traffic in the Suez Canal remains at a standstill today as authorities continue their efforts to re-float a grounded giant containership.
The Egyptian Suez Canal Authority says traffic in the canal is likely to be suspended until the  Panamanian cargo ship, "EVER GIVEN", can be completely re-floated.
The Head of the Suez Canal Authority had appeared to announce on Wednesday that navigation was expected to resume. Lieutenant General Osama Rabie said that 13 vessels were expected to continue their transit through the Canal, based on predictions that the floatation efforts would be completed in time.
However, with the ship still grounded, the vessels moved to an alternative scenario and are now waiting in the Great Lakes region until the full resumption of navigation movement.
Traffic in the canal has been completely halted in both directions following the stranding of the EVER GIVEN, a giant cargo ship 400 metres long, south of the main course after it had hit the bottom of the canal.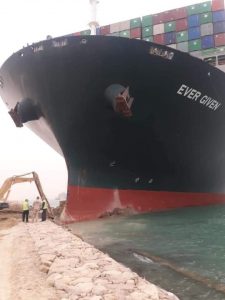 According to various Egyptian media outlets, the Suez Canal Authority, said: "The delinquent vessel was partially floated, and shipping traffic will be fully resumed soon."
The Suez Canal Authority mentioned earlier in the day that eight locomotives had been trying to float the stranded ship in order to resume navigation traffic in the canal.
The large container ship ran aground during its passage, causing the closure of the international artery and congestion in the Mediterranean, the Red Sea and the Suez Canal itself, which prompted some ships to change their way to the Cape of Good Hope.
The ship, which is carrying hundreds of containers bound for Rotterdam from China is owned by Taiwanese shipping company Evergreen and registered in Panama.
So, the #SuezCanal is blocked…

Massive container ship EVER GIVEN stuck in the most awkward way possible.

Ongoing for hours. Every tug Egypt could spare appear to be trying to pull it free.

Vessel tracker: https://t.co/MsTUgVgyTH pic.twitter.com/08w4qpPqln

— John Scott-Railton (@jsrailton) March 23, 2021
A picture taken from another ship in the canal shows that it was at an angle that completely closed the waterway.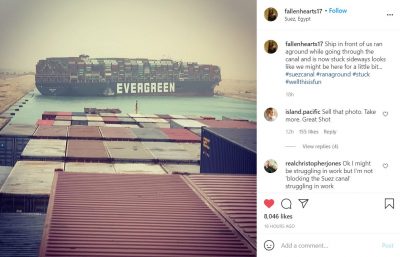 The vessel was built in 2018 and is operated by the transport company Evergreen Shipping. The company said that the accident cause was not technical and reported that there were no losses or damages to the cargo.