Rainbows were seen over two council buildings in Dorset this week, not a natural scene, but flags in colours to support the ten thousand gay and lesbian people living in Dorset, during February, the LGBT History Month. The word stands for lesbian, gay, bisexual and transgender people.
Local: vibrant LGBT scene
On Monday (12 February), the Chairman of North Dorset District Council, Councillor Val Pothercary, and Chairman of West Dorset District Council, Councillor Peter Shorland, raised the rainbow flag, a symbol of LGBT pride, at South Walks House offices in Dorchester to show unity with the community.
Councillor Stella Jones MBE, portfolio holder for equalities at West Dorset District Council, comments: "This is a symbol of the council's support for the LGBT community. West Dorset is a place for everyone no matter who they are. We're proud to promote our inclusivity and celebrate our diversity."
The rainbow flag will be flying above our Commercial Road and South Walks House offices this week in support of LGBTQ+ History Month #lgbthm18 #lgbtq+ #showlove pic.twitter.com/FJ0BhwzLOi

— Weymouth & Portland (@WPBCouncil) 2018年2月13日
Dorset has around ten thousand gay and lesbian population, 1.1 to 1.5 percent of the total number,  latest figure of Office of National Statistics (ONS) shows.
Bournemouth and Poole are not covered in England's LGBT population map. What is known, apart from statistics, is that Bournemouth Borough Council is one of the 17 local authorities in England responding to consultation question on the "sexual identity" topic by ONS' survey of potential inclusion questions in 2021 census.
In Bournemouth University, LGBT History Month has invited scholars, activists and drag queens to talk about the community, a warm-up for July's Bourne Free in town, an annual celebration of LGBT pride.
Gay venues in Bournemouth include the Xchange, the Branksome pub, and the newer ones like Flirt café and the Saunabar, embracing anyone regardless of gender, sexual preference, race or age.
Healthcare service Over the Rainbow is NHS initiative for Dorset's LGBT community, offering advice support and information for individuals and their families around issues relating to: Sexuality, sexual health, gender Identity and HIV.
Why the rainbow flag
The first rainbow flags were handmade in 1978's "Gay Freedom Parade" in San Francisco, the U.S.. The eight colours embodied the diversity within the LGBT community.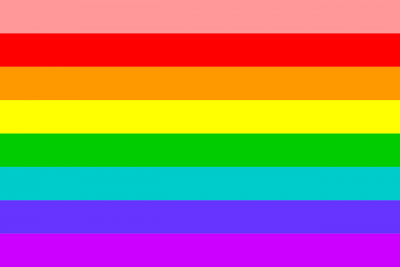 The designer, artist Gilbert Baker, was asked by San Francisco Board of Supervisor Harvey Milk, who was the first openly gay man to hold a high public office in a major American city, to come up with a proud symbol for the LGBT community in 1974.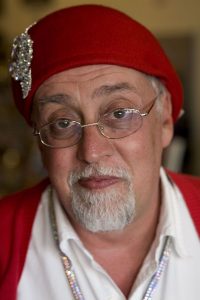 It's noteworthy that the Rainbow Flag is also an international symbol of the Peace Movementand the International Cooperative Movement.
Rights of LGBT in U.K.'s modern history
Bournemouth Town Hall had a rainbow flag flying outside the place to celebrate the first gay weddings after the midnight on 29 March 2014, when same-sex couples gained the right of legal marriage in England, Wales and Scotland.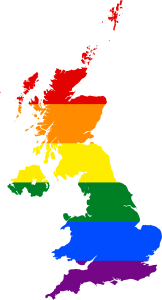 However the five decades leading to this day is not easily fought. The gradual process of right gaining started half a century ago from 1967, as same sex marriage over 21 was firstly decriminalized. Through 1980s to 2000s, the positive changes happened step by step. It was not until the Equality Act 2010 that transgender people's rights are protected against discrimination.
Many of the suffragettes who had fought for women's votes were bisexual or lesbians. The London-based charity group LGBT History Month states on its webpage that people shall forgot and or ignore the contribution of lesbians to the movement resulted to Representation of the People Act 1918.
Not yet the end of the story
On 7 February 2018, London Central Tribunal has published a judgment ruling that Primark had conducted "very severe" injury to its transgender employee Alexandra de Souza, who claimed to be harassed as colleagues taunted her in toilet.
Despite the victory of Alexandra, mental health is an issue of concern for LGBT in the U.K., as Equality and Human Rights Commission Triennial Review reveals:
Evidence suggests that LGBT people may be more likely than average to attempt suicide or to commit acts of self-harm.
Homophobic bullying is widespread in British secondary schools. 65% of LGB secondary school pupils experience homophobic bullying at school while only 1 in 6 secondary schoolteachers believe that their school is very active in promoting respect for LGB students.

Photo by Kurt Löwenstein Educational Center International Team, Germany

Bigger chance to have experienced sexual assault while huge reluctance to report the crime. Newer data suggest that LGBT people are more likely than average to have experienced sexual assault and domestic violence during their lifetimes. Also, they are more likely than average to be worried about crime. Although attacks against LGBT are now a specific form of hate crime, and this should encourage victims to report such incidents and ensure their fair treatment. However, a large proportion of victims of hate crime are still reluctant to report such attacks, creating a justice gap. One reason is that they are more likely to worry about and to experience discrimination by the police, whether they were reporting a crime or suspected of committing one.
There is always the silver lining. According to the Review, LGBT are active in political actions. For example, they are more likely to take part in political or civic activity and more likely to feel able to influence local decisions. On whole, there is a positive change in attitudes towards LGBT people.