Hays Travel in Winton believe Ryanair's comments on grounding flights would not happen.
Hays Travel Winton, a local travel agency, tells The Breaker that they wouldn't think flights to EU could ever be grounded, despite Ryanair's CEO threatened to ground its planes in a latest ditch attempt to convince voters to "rethink" Brexit.
Hays Travel says, if flights suspended, there would be "a mass impact".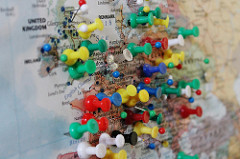 Hays currently have Ryanair and Thomson from Bournemouth providing travel routes to EU, while today Ryanair has announced new flights from Bournemouth to Cyprus's costal city, Paphos.
The airline will fly on weekdays from 29 October throughout the winter.
Ryanair will also fly to Paphos from Liverpool. Both airlines will operate twice a week in the winter season.
This is a turn around from Ryanair CEO Michael O'Leary's comments that warned that passengers may "no longer going to have cheap holidays".
Earlier this year, Bournemouth Airport unveiled its schedules that offer more than new 25 destinations this year. Among them were a range of new short breaks to EU countries such as Iceland, Tuscany, Madeira, and Geneva.
Paul Knight, Managing Director of Bournemouth Airport, says: " We think people will be surprised at just where flying from Bournemouth Airport can take you. The world really is accessible from your doorstep."