The food distributing app Olio is helping nearly 2 million people to tackle food insecurity during the lockdown.
Olio is a free food sharing app with over 300 supermarket and business organization partners, that is aiming to be part of the solution to reduce food waste. The 28-member team is leading the app and its nearly 2 million users across 49 countries.
The food shared can come from local farms; be it loose, raw, opened, cooked, or surplus food from our refrigerators; or nearing sell-by-date food from local supermarkets. As long as it's edible, Olio will take it.
[Hunger] doesn't just unravel in famine-struck corners of the developing world – it could be affecting the neighbours on your street.
How it works:
During the pandemic, Olio has set up some safety guidelines with Do's and Don'ts to prevent people from contracting the Corona virus, including: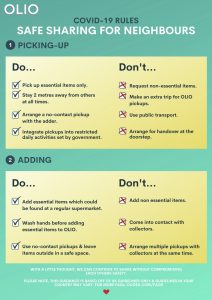 Credit-Olio
A third of the food produced globally is thrown away; and in the UK households are responsible for over half of all food waste. The average family throws away £700 worth of food each year. That adds up to £12.5 billion that is going straight to landfill. In order to reduce the food waste, Tessa Clarke in partnership with Saasha Celestial-One started this food sharing app in 2015 in London. Since then,they are trying to collaborate with business organizations and volunteers to serve the food products.
So far 4,150,110 portions of food are being shared throughout the world, with over 12 million car miles saved by forty-six thousand volunteer ambassadors and food waste heroes of Olio.
 50% of all food listings added to the app is requested in less than two hours. – Olio.
Up to 305 million full time jobs could be lost, and 265 million people could face acute food insecurity  throughout the world by the end of 2020. In order to reduce hunger, hundreds of volunteer groups and organizations are helping vulnerable during the COVID-19 pandemic.
Olio also invites volunteers and business organizations to support them by signing up. Be it schools, universities, retailers, offices and corporates, hospitality, or foodservice operators. Olio will provide them with proper training to collect and safely redistribute the food.
The app has won 40 awards down the road and is being called a surplus food savior.