On the first Saturday of every month, an all-female collective of DJs are welcomed to the chic and trendy venue of Sixty Million Postcards in Bournemouth. Chicks on decks, it's a lavish affair of fist pumping, doc martins and 90s pop, the perfect way to spend your Saturday evening.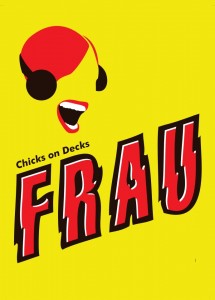 At half-past-eight, after an afternoon of soothing electronic jazz by the seaside, Sixty Million Postcards gets busy, strangers start sharing tables, and the sounds of anything from Dee-Lite to Disco Deviance are driven through the air. It's all about girl power at Frau, as supreme ladies lay out some supreme tracks.
It's a casual affair; the door staff are friendly, the bartenders are smiling, but the atmosphere is ultimately rocking. The bar is strictly vintage, old postcards are pinned up just about everywhere, and a classical piano makes for some thrifty background furniture.
All in all, this is, without a doubt, one of Bournemouth's best nights and bars. The drinks are reasonably priced, the venue is original, and the clientele are a diverse group of fun-time party-goers.
Get yourself to Sixty Million Postcards on Saturday 2 March to see the Frau DJs in action again. If you want to know more about the ladies, check them out on Facebook, and to find out more about Sixty Million Postcards, check out their website, or find them on Facebook and Twitter.
Main image from Sixty Million Postcards Facebook.