What appeared to be a dull rainy Saturday was set alive by an enthralling performance of karaoke singing by a group of singers under the rain and cold on the roadside lawn of Old Christchurch Road in Lansdowne Bournemouth.
Under the rain, the love soul choir rolled out song after song to the delight of people who had come to watch them perform and passers by.
The idea that gave birth to the love soul choir was conceived in 2008 in Southampton from a desire to launch a new and unique choir experience for singers in the city.
Now ten years down the line, the Love Soul Choir has had tremendous success and impact across Bournemouth and Southampton.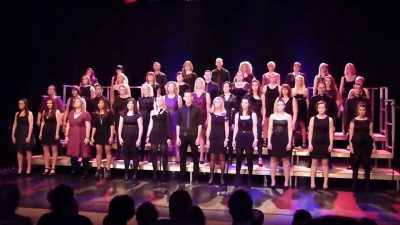 According to Dan cooper, the choir manager, they are at Bournemouth at the invitation of the Bournemouth Arts by the Sea Festival to perform for the event.
He added that they would have another performance on 8th December for the winter festival in Bournemouth.
The group which is made up o 120 singers drawn from across Bournemouth and Southampton carved its niche in performing at weddings, parties and corporate events as well.
Dan described the love soul choir as a group of lovely really cool, close knit and supportive singers with a real sense of family and belonging.
One of the singers Theresa Knox who'd been in the group for a little over a year described it as truly enjoyable and remarkable experience. she described singing as medicine for the soul, because after she started singing she is became happier as a result of seeing people happy and smiling.
Apart from performing in private events, the love soul choir has also had appearances in public events like the Channel 5s Don't stop Believing an also got featured in BBCs The Big Sing.