In the spirit and preparations for the incoming Christmas, the chaplaincy of Bournemouth University Talbot Campus organized a Tea/Coffee party for international Students at the Global Café.
The Chaplaincy has always held a weekly Tea/Coffee meet up for International Students at Fusion building known as the International Global Café; which makes international students feel welcomed, give them a feeling of belonging and the opportunity to relax and unwind from the rigors of academics, and interact with one another.
Sue Bert, a staff of the chaplaincy explained the idea behind the global café which she said has been running for many years.
The idea is simply that knowing how hard it is to come away from home to study in a new environment, culture and new food, new people. So, we provide a weekly place where students come, relax and meet other students from different parts of the world.
Brother Andrew is a parishioner from the Bournemouth Sacred Heart Church is a regular attendee of the weekly Global Cafe meet up. And he said he likes being at the International Global café because it enables him meet and interacts with students from all over the world.
Noor, a clinical Psychology student from Turkey expressed her appreciation to the chaplaincy for the weekly meet, saying it has enabled her to meet and make new friends.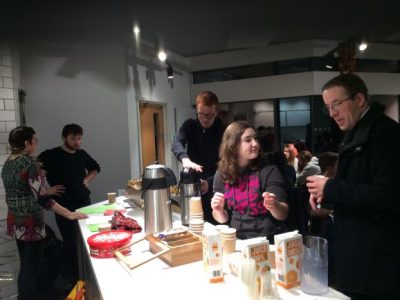 The Chaplaincy at Bournemouth University located at Talbot House supports all students and staff of the University of all faiths and spiritual beliefs. It provides a space to relax and unwind, while exploring the world of spirituality in a serene and quite environment away from the academic classrooms – and enjoying some refreshments at the same time!
The BU chaplaincy offer an open-door policy, providing a spiritual meeting place with pastoral care and support with a personal approach in a fast, increasingly impersonal world;, according to the university website.
If you're looking for a place to worship, pray or just ask questions, we're here to offer care and support along the way.