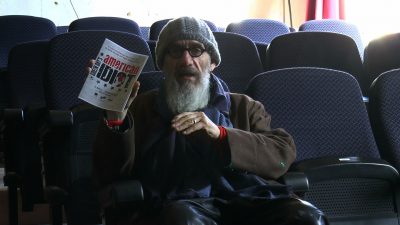 Hollywood film director Tony Kaye says he was "blown away" by a Bournemouth theatre production of 'American Idiot.'
The 64-year-old filmmaker, who directed the Academy Award nominated 'American History X' starring Edward Norton, saw an advertisement for the Shelley Theatre production while visiting from LA.
"I was in a taxi office getting a taxi back to where my mother lives, and I happened to see the leaflet for American Idiot in the pamphlet holder," he said.
"I thought the show was amazing – very complex, the energy was off the charts, the production was great. I was blown away."
Shelley Theatre Trustee Nina Dunne says it's not the first time such a high profile individual has come to visit.
"We've also had the lady who played the child in 'The Exorcist' come here as well," she said.
"A little theatre in Bournemouth being recognised by internationally known artists – it's fabulous."
The building which houses the theatre was built for Mary Shelley, who wrote the famous novel 'Frankenstein.'
She died before the building was completed, so her son and his wife took occupancy instead.
The theatre opened in 1870 with public performances attended by Sir Henry Irving and Robert Louis Stevenson.
"Slaves to the American entertainment world"
Mr Kaye said how the world's apparent fascination with American culture led to his interest in seeing the local show.
"I've spent a lifetime in America being a slave to the brilliance of America," he said.
"I don't know why we're all slaves to the American entertainment world when we've got such a great one in Britain, and we don't realise that most of the time."
The story of 'American Idiot' follows three suburban friends – Johnny, Tunny and Will – who try and find meaning in their lives in the wake of the September 11th terrorist attacks and the era of fear in America.
It's written by Californian punk rock band Green Day, with songs taken from the titular platinum-selling album and its follow up '21st Century Breakdown.'
The Shelley Theatre production – performed by members of Bournemouth University's Performing Arts Society – was received positively by the local press.
Mr Kaye expressed interest in wanting to connect more with the university in future.
"Of course for someone at my stage in life, to connect with a younger audience and see what young people are doing and what they're making is very important," he said.
Find out more about the Shelley Theatre
Find out about other productions of 'American Idiot'